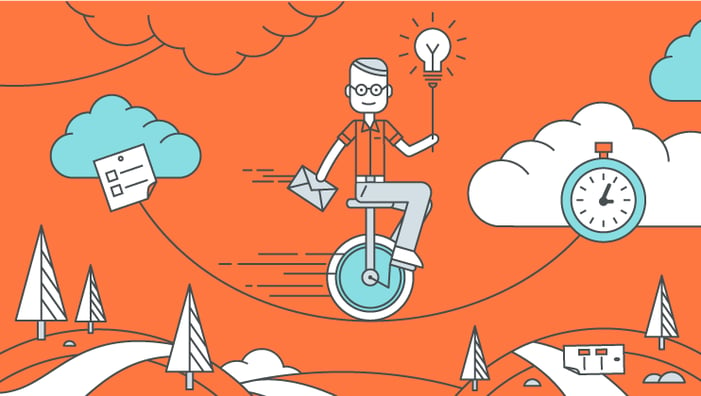 What are the different formats customer stories take? Let's review the most popular formats, their benefits, and when to use them.
WRITTEN STORY
A written story is the most common content format – and is the foundation of any customer evidence package and/or program. It highlights the key aspects of your customer's success, includes quotes from the customer to add authenticity and it's the first point-of-call for sellers and marketing teams as well as prospects.
Benefits
• Easily searchable on the company website and internal customer story database
• B2B prospects researching solutions can find them
• Easy to amplify through social media by business stakeholders
How to use it
Sellers and Account Managers can use the customer stories in many ways: email prospects a link to the published story, attach it in PDF format, and use it as part of sales collaterals.
VIDEO STORY
For starters, research shows that 𝟓𝟗% 𝐨𝐟 𝐛𝐮𝐬𝐢𝐧𝐞𝐬𝐬 𝐝𝐞𝐜𝐢𝐬𝐢𝐨𝐧-𝐦𝐚𝐤𝐞𝐫𝐬 𝐰𝐨𝐮𝐥𝐝 𝐫𝐚𝐭𝐡𝐞𝐫 𝐰𝐚𝐭𝐜𝐡 𝐚 𝐯𝐢𝐝𝐞𝐨 𝐭𝐡𝐚𝐧 𝐫𝐞𝐚𝐝 𝐭𝐞𝐱𝐭. That's why the video format is so effective – and gives you the chance to play to the viewer's emotions as well as to tell a business story.
Videos allow your customers to tell the story of how they benefited from your solution – in their own words. The viewers, on the other hand, see an authentic story with an emotional angle (they saved me time/money/my job, etc.)

Benefits
• Shows real people telling their story in a way that is authentic, believable, and relatable to prospects
• Provides the specifics of your customer's use case, so prospects can see how the product or service actually works
• Builds a narrative that takes the viewer on the same customer journey that they are embarking on, making them more likely to convert if they can see themselves in the story
Content includes facts and figures that provide tangible evidence of success
How to use it?
Most customer video stories are published alongside written customer stories on the company website, as well as on platforms such as Vimeo or YouTube. They are great to show during a sales event or industry conference

SALES SLIDER
A sales slider usually contains one or two slides – created in PPT or Google slides formats. It captures the customer story highlights – such as the main objectives of the product or solution sold, tactics used, results gained, and a customer quote. What's important is being concise. Graphics help tell the story too.
Benefits
• Can be easily added to sales pitch decks, integration is easy
• Great as downloadable assets on the company website or other online publications
• Can be presented alongside the full customer story
• Useful asset for nurturing and marketing campaigns, can serve as a quick social media post
• Quick reference for customer success examples
How to use it?
These short, to-the-point slides are great in helping sellers and account managers lead conversations with prospects as they emphasize the impact your solution brings to customers. And you can of course create this useful asset without the full written or video customer story, especially when it's a new business win.


INFOGRAPHIC
An infographic is a popular, eye-catching visual tool to tell a customer story.
They are great at summarizing information, especially data. And as they are created using graphics and/or photography, they are visually appealing. As people only read about 20 percent of the text on web pages, infographics are a perfect medium to keep readers engaged.
Benefits
• Structured, easily consumable format
• Strong visual approach
• Many types of information can be conveyed simply
• Help people understand information quickly
• Fun and engaging
• Popular and easily shareable on social media
How to use them?
Infographics can be shared on social media to amplify the story and increase viewers. And included as part of the story on the company website for an easy-to-read, visual telling of the win.
They are already one of the most used types of content in marketing. But as they have become more and more popular, it's even more important to remember to tell a good story and create cool graphics.