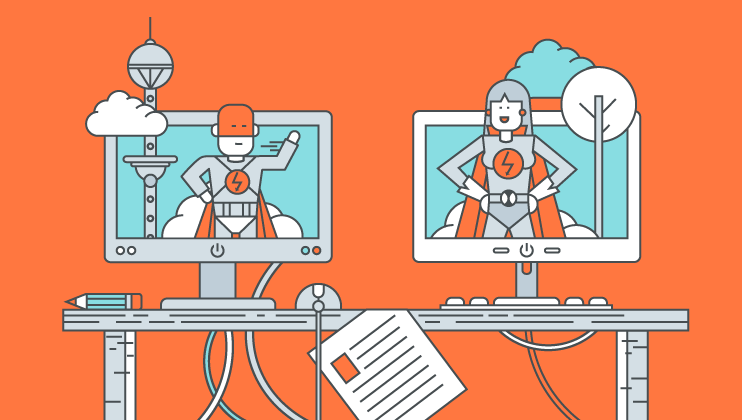 As awesome as freelancing can be, it offers challenges as well. Whether you've been in it a long time or you're a newcomer, one area that will always provide its pros and cons is working alone.

Setting your own hours and managing your own client base is sensational. Getting feedback and advice on your work, staying motivated on quiet days or even the simple desire to talk to another adult, however, can test even the most independent and introverted among us.

According to a survey by the Society for Human Resources Management, 83% of HR managers believe telecommuting will become increasingly prevalent in the next five years. As more companies look to hire talent remotely, opportunities for joining a team as a freelancer provides the best of both worlds: being part of a team while still working for yourself.

Think of the great superheroes: often due to their career (saving the world daily) they live a life of solitude. Yet when they band together the results and benefits often deliver greater collective success. The X-Men, Avengers and Justice League are all great examples of freelancers working together for greater results.

So, how to thrive in a virtual team culture?
1. The right attitude
Not everyone can freelance, but all freelancers can benefit from being in a team. Just like superheroes, as a virtual team member you need to be self-motivated, responsive, and demonstrate a helpful and sharing attitude.
2. The right tools
Virtual cultures provide opportunities to share and help each other. Shared project-management workspaces, video conference calling like Skype, and even a resource library give freelancers the chance to get help, announce their success and work together on projects. My team uses Podio, which offers the ability to 'like' and comment on projects. Our team members often add supportive comments or share something interesting about a project to help others.
3. Face-to-face time
Video calls were mentioned in the previous point, but the importance of this cannot be understated. Email and phone calls can only build a culture so far. Face-to-face time (even virtually) with team members will build connections, increase understanding and empathy, and can help fight moments of solitude. Get face-to-face; there are plenty of options to choose from.
4. Keep it real and have fun
Be open in your team; share your interests and what's going on in your life. Create a shared music list on Spotify where everyone can add their favourite work music. Celebrate birthdays, share funny cat videos, or announce personal successes. This week alone I met two team member's pets during video conference calls.
The growth of the virtual team is a great trend for those working for themselves. Done properly, it offers new opportunities, a global community and the chance to meet like-minded talent with shared interests. Working for a company that actively seeks to build a virtual culture gives you some of the social perks of a steady job while keeping all the things you love about freelancing. And unlike superheroes, you don't have to save the world every time you get together.
If you're interested in joining our virtual team and saving the world of B2B marketing every so often, get in touch!