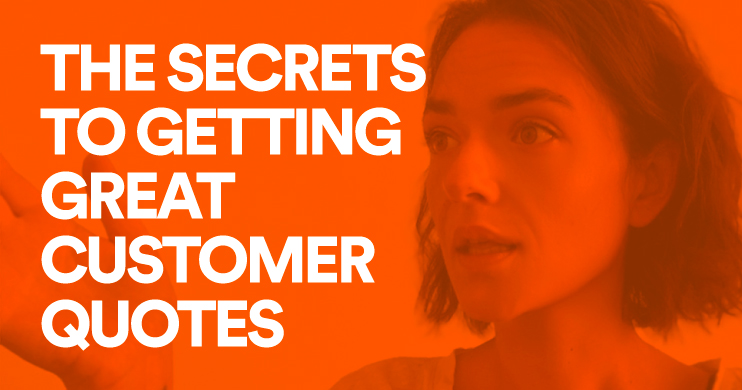 In my experience, one of the questions regularly posed by organizations and teams is "How do I get customers to engage in reference activities?" And it is a very valid one that begs to be answered, in full, by anyone considering a deeper dive into a customer evidence program.
Indeed, for those in sales and marketing responsible for getting customer references, it's a question that doesn't ever really go away. And, with no simple answer to solve this predicament forever, it's no surprise that collecting customer references becomes an ongoing challenge.
Why is this? Because each customer is different, your organization is different and everyone has different and often conflicting incentives and priorities.
The approach taken varies because each customer is different and each organization is different. However, from my experience working with organizations creating amazing customer evidence there are best practices you can follow to reach your customers and get their buy-in to your own evidence program.
I hope the following recommendations are the start to customer relationships that quickly transform into true partnerships - for you and your organization.
Laying the foundation: Honesty
In any relationship, honesty is the key to successful dialogue, buy-in and ongoing commitment. So, the first step is to speak openly with your customer about how the program will benefit them and equally why you want to do it for your company. You'll discover that there are a wealth of mutual benefits – across rational, emotional and relationship levels – to be gained.
Secondly, you'll need to openly discuss what the steps are, and where you'll need your customer's time and involvement. Giving your customer a heads up, early on, as to the commitment required is added proof that you care about them and their priorities.
Build on it
You already have a relationship with your customer, and will have already spent time with them over the past months or years. But through involvement in a customer evidence program, you can really take things to the next level. It will be the start to exploring together what they want to achieve, and you being able to offer them support - when they need it most.

So, take time to listen, and show them how you can help them reach their goals whether they be personal or professional. By building this kind of dialogue together, your customer will have invested in the story as much as you – making it their own.

In Turkish we have a saying that does not easily translate, but the main message is: from unity comes strength or two heads are better than one or one hand washes the other and two hands wash the face. I think you get the idea…
Reinforcing what's in it for them
Remember that the levels of customer motivation and the benefits they seek are equally important and can both change – so keep that in mind at all stages. For example:
Your customer might already love your brand, your product, your team and already fully believe in the partnership you have formed – needing no specific encouragement.
Your customer might value the opportunity to promote their own company and individual brand to others and peers – but then have second thoughts about confidentiality.
Your customer might welcome the opportunity to expand their own networks and meet peers or interesting individuals who in turn can help them - but this becomes more important on a personal vs. professional level.
Therefore, listen attentively to understand your customer's priorities and keep referring back to them as you explore together the best opportunities and ways they can engage with the program. This will ensure that you do what is right for them in the right way as you lay the foundations and build the blocks of the first of many successful customer evidence programmes.
As I mentioned before, there is no single way to encourage customers to become a reference, but I hope this a good start. Meanwhile, I'd love to hear from you about what approaches and tactics have worked for you and your clients … so please get in touch.