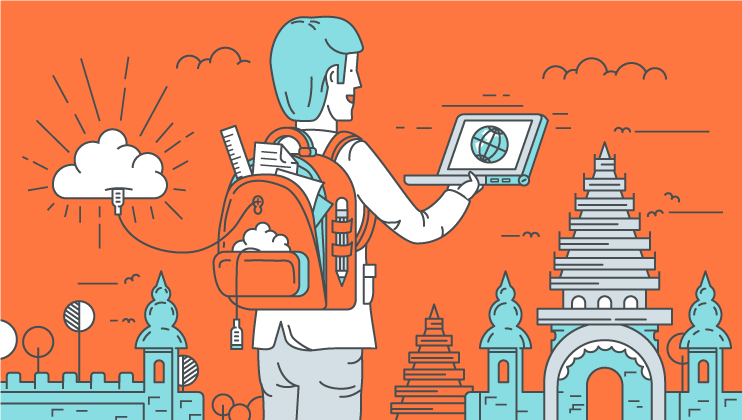 Back in March I made what was going be the biggest decision of my year when I took a position at Wings4U, a company with remote working at its core. Before that, I was working at an advertising agency, doing crazy hours and never seeing daylight. I was having an existential crisis roughly every two months! "What am I doing with my life?" I asked myself, "is this worth all the time I'm spending here?" I wondered when something cool and adventurous would happen. I didn't know what life had in store.
I thought that working from anywhere in the city was about as good as it gets for a remote project manager in Buenos Aires. I was encouraged to dream bigger when I was asked to spend two months in Asia on-boarding a new team member and helping with other matters in the region. I was born and raised in Argentina, so this was, quite literally, the other side of the world for me. I accepted after a weekend of considering the pros and cons, and three weeks later I was on my way to Manila.
The first couple of weeks were rough. I live with my family at home and my house is usually very busy, so swapping that for an apartment by myself was a bit of a shock. The only people I'd talk to would be my teammates over Skype, who always had encouraging words (thanks guys). Food was also a big adjustment. I'm a picky eater, and a bit of an Argentine cliché in that I live off of steak and maybe five other things! Asia is not the best place to get steak so I had to get really creative with those five other things.
During this time I got to not only explore the Philippines, but also attend a workshop in Singapore and visit Japan, all while working every day. I took yoga lessons, visited temples with samurai tombstones, lay on beaches that looked like paradise, and learned a lot about cultures completely different to my own.
I also got to learn a lot about myself and who I am when I'm not surrounded by friends and family. That really pushed me to grow as a person. And during all this I was still growing as a professional.
Some days my life would be so surreal that I'd have to pinch myself to make sure I wasn't dreaming. I was really working from Kyoto and visiting ancient temples during lunch breaks. Taking a trip to Boracay, and doing yoga with my team in front of Marina Bay Sands in Singapore after a long day.
I think it was hard to accept as reality because I'd been programmed to think that life would always be a 9-to-5 office job and that amazing experiences like this were only for the two weeks off I'd get a year. I was told that I'd spend my life planning my next year's vacations, trying to escape my job, which was something that I never quite understood or agreed with.
Remote working showed me that there's another way to do things. That you can live the way you want, being a citizen of the world without hurting your career, and that you can live a life that you don't need a vacation from.