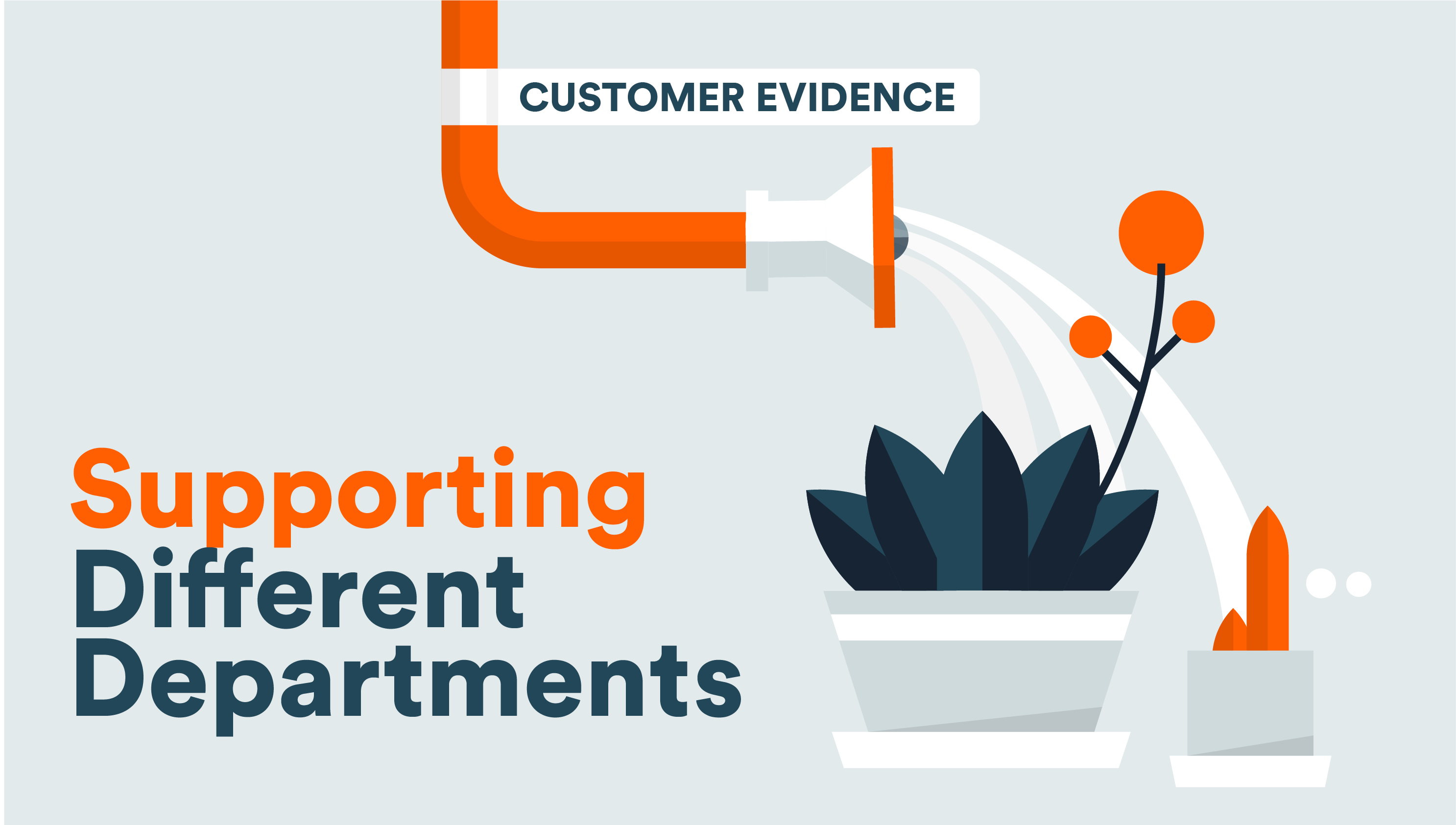 You may have heard about customer evidence; stories told from the perspective of satisfied customer that talk about how your solution helped them overcome a challenge they were facing. But what you may not know is how these stories can be beneficial to many different departments within your business - making the time and effort necessary to create them well worth it.
So how can customer evidence support your teams? First, let's quickly remind ourselves of what customer evidence is and why it is effective. Customer evidence is a story about your satisfied customer that places the focus on their success. It's effective because it's versatile (in utility and format) and because it's authentic. Remembering these points can help you amplify the positive effects across your business.
Some of the ways that customer evidence can be helpful throughout your business include:
MARKETING
Having an effective customer evidence program (ie a system for consistently creating new stories) has huge benefits for your marketing department; namely in the form of evergreen content that can be repurposed into many formats and assets to suit a variety of needs. From long form blog posts, to videos, to infographics, the content that you create can be used on social media, for PR purposes, to boost SEO and digital marketing efforts, and really any campaign that requires useful and well thought out content. This means more traffic, better leads, and a better ROI on marketing campaigns.
SALES
If you want to practice proper 'sales enablement', then you already know it starts with giving your team the best assets possible to support them in their endeavors. Because customer evidence pieces are direct stories of success from customers, they are clear demonstration of the effectiveness of your product or service. As your library grows, you will have more stories and more content that spans a wider range of businesses and situations This increases the odds of having an asset that resonates with a prospect who just isn't quite sure.
OPERATIONS & MANAGEMENT
Upper management always likes to hear when efforts throughout the business are successful, and what better way than through authentic content that demonstrates success? With ready made content that shows how well your product works for users, your operations and management teams can have content at the ready when consulting investors, requesting loans, and other overhead tasks that ensure business viability.
FINANCE
Want a bigger budget? You know it has to be approved by finance. Customer success stories present the success of both your solution and your marketing of that solution. This provides evidence and a basis (beyond numbers alone) to request more money.
A customer evidence program can also help with the overall cohesion of your internal teams because it requires that they work together to produce the final content. Your marketing department may not have much direct contact with the client; or even with the account management team, and customer stories are a great way to build bridges - creating a better overall feeling in both groups.
Interested in learning more about customer evidence programs or even starting your own? Download our ebook 'Customer Evidence 101: How to Turn Customer Success into Marketing Bliss' or contact us today!