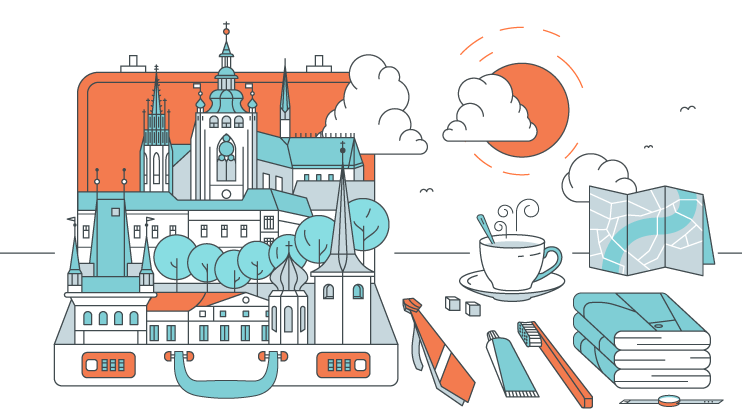 I'm fortunate to travel to historical Prague on business with Wings4U. Even in winter (these photos are from February), Prague is beautiful and oozes history and charm; it lends to one waxing lyrical. But there is also a real energy in the business scene and as I looked through my mobile photos I saw some of my favourite business lessons - for startups or more established organisations – in the very fabric of Prague. So, without further ado, please enjoy these photos with a business twist.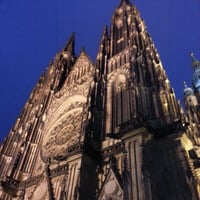 Reach For The Stars
There is no shortage of industry leaders or entrepreneurs reminding us to Dream Big. St Vitus Cathedral personifies that in a very grand way. It dominates the hillside and Prague Castle skyline and is constantly reminding visitors to look up, and then up further still. Keeping your gaze upwards is the only way to take in the awe-inspiring gothic architecture. It took over a hundred years to build, and while the original builders of St Vitus knew they'd never see the end result, they did not let that stop them doing their best work and dreaming big along the way.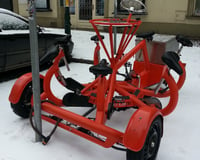 Keep Innovating and Iterating
I came across this bicycle on a snowy day so never saw it in action. Maybe it's not even a bicycle… I would love to see it working! However, it is clear that no matter how crazy the idea, someone planned it and gave it a go. This is hugely important in business too, sometimes it is the craziest ideas that become industry disruptors and create new standards. You'll never know until you try. Read the story of YouTube for a good example of this.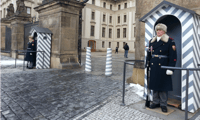 Guard Your IP
The grounds of the Prague Castle have guards posted in all weather, at all the gates. Let's learn from this – protect your IP. Take out patents. And take all appropriate steps to protect your data (and that of your customers too!), no matter how difficult it may seem.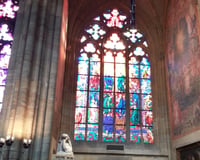 Share Your Content
Back to St Vitus Cathedral: There is a modest fee if you want to go all the way in, but you can enter and still enjoy some of the stained glass windows and stunning architecture without paying. St Vitus is willing to share some of its treasures with anyone who is interested. Think content marketing. What can you share? How can you entertain or educate people? How can you further encourage people to come to you?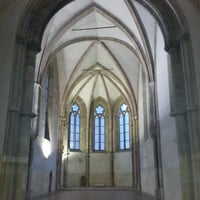 Allow Room For Creativity
Amongst a city full of cathedrals, churches and monasteries there is St Agnes Convent. It was founded by a very strong-willed Bohemian princess, but that's a whole other blog post! As I was wandering around with a friend, we came across this annex which was inspiring in its emptiness and scale. Other rooms were full of religious paintings and treasures, but this room – this room allowed one to think, to pace, to consider and look at challenges in different ways and still have room left over for experimentation.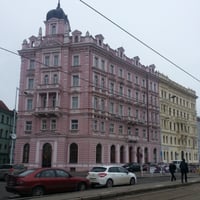 Be Different
I'm not sure why I took this photo initially. It's certainly not the most attractive building in Prague. Nor is it the most unusual. But as I looked through my photos I realised that despite its 'ordinariness', it still manages to be noticed. Liken that to business - what are you doing to stand out in your industry?

Pay Attention To Details, No Matter How Big You Get
If you're in Prague this year, I encourage you to see the Slav Epic by Mucha. The exhibition has been extended for 2015. This is a series of 20 paintings that are awe inspiring because of their sheer size. Before he even started, Mucha promised 20 paintings to the Prague City Council. I imagine he worked to self-imposed deadlines, but you see that Mucha still took time to get the details right. The paintings work – and it's the details in these works that make all the difference.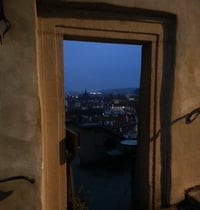 Be Brave and Knock on Those Closed Doors
There are a lot of stone walls in Prague, and some of the walls have doors. What lays behind is hidden. This door, in a stone wall, was open, and what lay beyond was not what I expected. Instead of a courtyard or a room, this door opened to a terrace with views over downtown Prague. Be brave and knock on doors that are now closed to you. While they probably won't all open, some of them may open to possibilities you never thought of.
This article was first published by the author on LinkedIn. Wings4U can help you with any of the pointers above - with the exception of IP protection - which is only fair considering we are a content marketing agency, not lawyers.