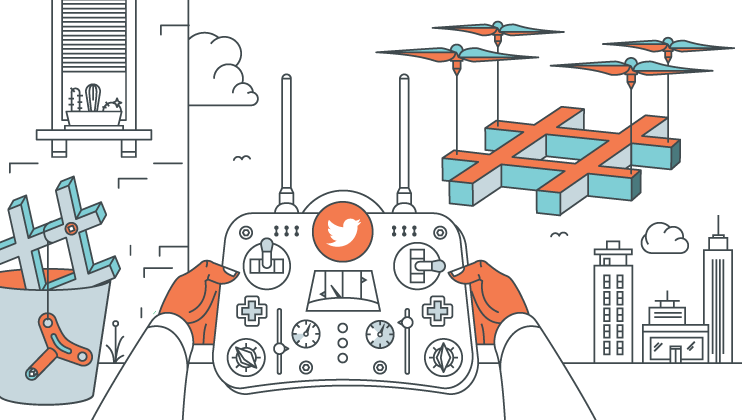 Why are we writing about tweeting tips?

With inbound marketing, great content is only half the story. Distribution and promotion of your content is the other half. As B2B marketers it's critical to get your content out and in front of the right people. With over 2 million blog posts alone being created every day, the challenge is promoting your content amongst all the noise.

Once you have great content, Twitter is one of the three most important social channels for B2B. Every month, Twitter clocks 300 million monthly active users; it's important to be present and effective on Twitter. It's fun too. You can jump into conversations in real time, with influencers and potential customers alike.

But it's important to note that not all tweets are created equal. Social channels are about engagement, rather than just constant promotion. Twitter are one of our clients - we see great examples of good tweets all the time.

Importantly, this blog post is not about social media strategy. We assume you already know the 80/20 principle and just want an idea of how to write a killer tweet. Right now, we're looking at best-practice tweeting to help improve your current account activity or get started on your new Twitter handle.

If you have budget for paid media, you will want to consider running campaigns through Twitter Ads to meet your marketing objectives (gain followers, launch a product, etc). Twitter Ads offer a range of advertising products for budgets of all sizes.

You don't need Twitter Ads to use these tips though; this is about how to write a great B2B tweet. Think of this as a checklist if you like.

1. Write it tight and make a big impact
Short tweets - those under 100 characters (including hashtags) are proven to be the most effective. You also need to leave room for images, videos or website links, so aim to keep the text to 100 characters or below. The links and images will take you to the 140 limit before you know it.
BONUS TIP: The words 'you' and 'how to' get higher than average engagement on Twitter.
2. To hashtag or not to hashtag - that is the question
The answer is yes, use a hashtag, but no more than three. Keep your hashtags short and relevant.
Perhaps you're running a campaign around a product hashtag:
#LexusRC الجديدة بتصميم عصري فريد بانسيابيته،مفعم بالقوة والجمال وبمحرك قوي كل ذلك لكي تعيش متعة القيادة التي لا تنسى pic.twitter.com/Gt5rVPQ1hu

— Lexus KSA (@LexusKSA) November 19, 2014
Check out the Lexus KSA (@LexusKSA) case study.
Or, you're joining the conversation that naturally happens around moments such as #ValentinesDay or global events such as #StarWars:
These #StarWars #ValentinesDay Chocolates look amazing. Need to get these for the wife ! @Cool2Zoe @starwars 😱 https://t.co/MrjbBooILE

— Phil Roberts (@philthecool) December 27, 2015
As Twitter says: 'People use hashtags to organize conversations and make it easier to find all content related to a given topic.' If you want to find out what other people or brands are saying around that same #topic, click directly on the hashtag in the tweet or enter the #topic into search on Twitter or Google.
Hashtags are awesome - as evidenced by their adoption across many communication channels. For best practice of hashtags in everyday verbal conversation with your friends, consider this example from Jimmy Fallon and Justin Timberlake.
But we digress... let's get back to business.
3. Keep it conversational
You're a brand, we get that. Do you have a brand 'voice'? Is it suitably social for the social channels you're engaging on? As users of social media, we see that button-upped, corporate brands get better engagement when they exhibit a more relaxed attitude on social channels. Some marketing influencers are broadening marketing focus and strategy stating that it is no longer B2B or B2C, it's now H2H, human-to-human. We get that, too. Does it show in your tweets?
Take Zoey Sayward's word for it. Have a great week ahead! pic.twitter.com/tyw1CqG4WS

— MicrosoftPhilippines (@MicrosoftPH) December 14, 2015
4. Get visual
No matter what you're tweeting about, get visual when you can. Include video or images. Tweets with images report over 300% more engagement. And if you're having trouble deciding on the best photo, you can now include up to four photos in one tweet.
BONUS TIP: Avoid generic stock images that don't resonate with your message. Rich media images that you own can be re-purposed and are worth the investment if you can afford it.

Here are some examples of visual tweets with different objectives:
If you're selling a product or service, grab attention by offering a discount.
Scarica l'app: iOS - http://t.co/qgUJ9kr5BC Android - http://t.co/0QSFXWwvTd WP - http://t.co/85fvEwHto0 pic.twitter.com/zxaHEAfNzd

— GLISTOCKISTI (@GLISTOCKISTI) March 29, 2015
Highlight a USP of your product that makes it stand out.
Live Large. Huawei #Mate7 gives you more space to live your life. #HuaweiIFA2014 pic.twitter.com/CgL5zSz8d4

— Huawei Device (@HuaweiDevice) September 4, 2014
If you're more into growing engagement and brand awareness, position yourself as an influencer by posting useful information from videos, blogs, stats and metrics that will help your readers.
On 22-25 May you get to decide what happens in Europe. Our video explains why this time is different: http://t.co/ppPkzEXvoL

— European Parliament (@Europarl_EN) May 20, 2014
5. Include a simple call-to-action or ask for a Retweet
Let the user know what to expect when they click on the link in your tweet. Will it be 'read more' or 'watch here'. A simple call-to-action (CTA) can influence that click through, and if your tweet is something likeable, have you tried requesting a Retweet (RT)? Give it a go, what have you got to lose? The Gartner tweet belows includes the simple CTA to read:
Use these 3 steps to grow digital commerce. Read: https://t.co/T00GM9kqJS via @Gartner_inc @GartnerDigital pic.twitter.com/kqiaU0oqxP

— GartnerForMarketers (@GartnerDigital) December 15, 2015
Review and improve
Go back and investigate which tweets delivered the biggest results. Twitter Analytics is a good place to start.
Play around and experiment with your content and copy and compare results.
For example, change the message or refine the call to action to see which is more engaging. Which worked better: Offering a '10% Discount' or '$5 Off your next Order'? Even capitalising some of the words can alter results. If you're a B2B trying to encourage engagement, try different hashtags.
Next, use the same copy but try different images to see which attracts more engagement. Do close-ups of product images work better or photos of customers using the product? How about a funny GIF or cheeky image? Look at the retweets for this one!
So we finally found a Suarez pic that hasn't been photoshopped... #WorldCup #ITAURU pic.twitter.com/ntnY7BxLYF

— Sportsbet.com.au (@sportsbetcomau) June 25, 2014
Twitter is conversation. Twitter is news. Twitter is about moments. Don't agonise over the perfect tweet, just get out there, write great B2B tweets with the tips above and start talking with your audience! After all, 60% of Twitter users purchased from SMB because of something they saw on Twitter. Are you being seen?
What tweet writing tips can you share?