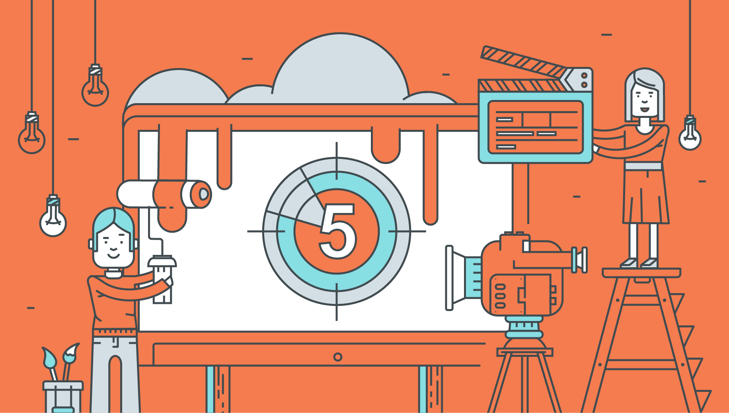 Marketers are well aware of the power of telling stories; however, it may seem tricky when it comes to creating videos for B2B brands. There is often a misguided perception that B2B products or services are not as entertaining or attractive as those of B2C; yet, there is often more to tell your audience for the former. With some creativity and good planning, your stories don't have to be boring at all and you can use videos to serve a variety of purposes such as brand awareness, education, PR, case study, product review and many more.
For interesting ideas, try to think outside the box, ask people around you to learn different perspectives, discuss with the sales and customer service team (if there is one), and get inspired by other successful campaigns! Add energy, humour, good music, and originality to stand out and watch what a good video content can do for your brand!
To get you in the hype and feel more inspired, we've compiled five B2B video marketing examples we love:
Moz is one of the brands with an exemplary video marketing strategy and this video shows a tour of their work space, people, and atmosphere, like no other piece of content would! In just a minute, you get a good idea about the office, team and brand, as well as an opinion on whether you would like to be a part of the Moz team—if you are thinking about applying to a job for example. Office tours are great content for HR!
Evernote has a highly popular Youtube channel with many instructional videos to enable self-guided learning. This video is highly practical for any Mac user to familiarise themselves with the new interface and smoothly transition to this new user experience. Again, this fairly short video is sufficient to do the trick and educate its users for an experience that might have otherwise raised questions.
Hubspot is one of the pioneer brands of video marketing and you can basically get inspired from any of their videos! Their Youtube channel is full of informational videos, short guides, case studies, tactics, and many more types of videos that address different audiences at different stage of the sales funnel. We like this customer success story video specifically for speaking out for the brand and the product features, without a sales pitch!
This is one of our favourite video productions that showcases the unconventional story of two iconic companies merging together for a highly successful and interesting cooperation. An ABS H-D solution was built on Microsoft Dynamics 365 for Harley Davidson and the video is actually a case study with an entertaining twist, showcasing the details of the solution. As we say, B2B videos don't have to be boring!
One of the best ways to show the value of your product/service is hearing the change you have brought to your clients' business. Wings4U helped create this video as Twitter wanted to showcase the success of Bukalapak, an e-commerce giant that used the platform to exponentially increase downloads of their mobile app and engagement in their biggest annual discount promotion. We think it helps greatly to hear from Bukalapak: how using Twitter ads and promoted video feature helped them achieve their goals and the actual results they experienced.