We're happy to introduce Jovana Sreckovic, our Microsoft WE Voice of the Customer Program Manager at Wings4U. It's a regional role with global implications, part of our B2B marketing agency in Europe. At Wings4U, Jovana is responsible for direct contact and support for 12 Microsoft subsidiaries in Western Europe and delivery of great content that Wings4U Artists create based on amazing Microsoft customer stories. This is an interesting and dynamic job which often consists of a series of parallel projects and requires full time attention, accuracy, commitment and above all multitasking! We took a few minutes to find out what makes Jovana tick.
Why this role, and why Wings4U?
I believe that this was a natural and spontaneous way in my career, considering that I have already worked before with Microsoft but I was looking for some new challenges and an upgrade in my professional life. I also wanted to have control over my working hours and time because I am a mother and I do not want to see my children only when they're asleep at night, because of work. Wings4U offered me the solution I was searching for and—here I am ☺
Do you have any experiences worth raving about?
Uhh… I've had a lot of peculiar situations in life: when I searched for the first, real job after graduating—I got two at the same time! That's the situation when you have two good things and need to choose the better one, but you are all in doubts. Anyway, that is a valuable experience and I am glad I made the right decision then. I am also preparing myself for the Belgrade (half) marathon, this April, for the first time in my life, and I guess it will be extremely worth raving about!
What makes you tick? What are you passionate about?
Travel, music, interesting events, seeing new places and meeting new people—that is one part of things I like, because they make me feel alive. I am also fan of challenges, puzzles, math problems and tasks—they make your brain feel alive. But the most important thing is to have fun and excitement in everything you do.
What's your favourite quote?
"Nothing is impossible—the word itself says, 'I'm possible'!"
—Audrey Hepburn
This one describes my own motto in Audrey's cute way.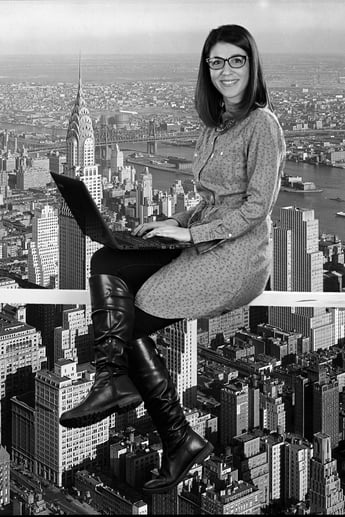 What's your favourite music / bands?
Music is a very important part of my life and as I grew up I liked various musical directions, bands, singers. I would mention George Michael, Coldplay, Jamiroquai, Lenny Kravitz, Simply Red as a few artists I love to hear any time.
Which book and movie would you recommend to everyone?
I don't have favorite book but "A Sunday at the Pool in Kigali", by Gil Courtemanche, has left quite an impression on me. I am usually attracted to this kind of book and "heavy", true stories because they touch your soul, make you think, and initiate some decisions, changes. The same with movies: "La Vita e Bella", by Roberto Begnini, "Dancer in the Dark", by Lars von Trier.
If you could go to dinner with anyone (alive or not), who would it be and why?
I would always choose dinner with my friends and family because we are all so busy that we meet rarely (not as much as I would like to), and it is always an unforgettable time with lots of good laughs, interesting stories and situations!
_____
Read more stories of Wings4U members: