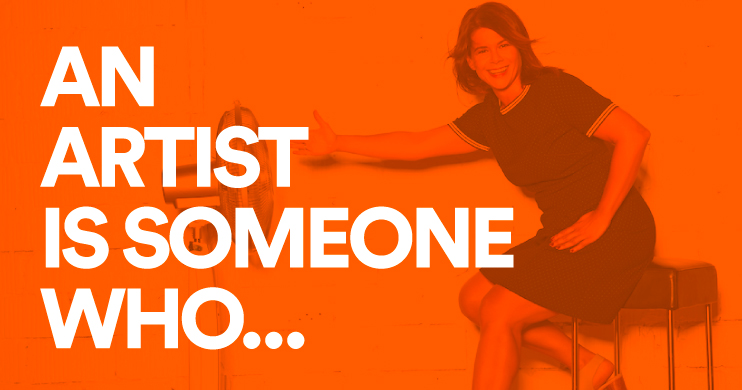 Wings4U has three owners. One of our owners, Maria Sztarovics, first founded the company back in 2007. Here's a bit of her story, and why you'll never hear her use the word freelancer unless she really, really has to!
I love artists. I always wanted to be one.
During my university years my best friend introduced me to João Pedro Plácido, an independent movie director of Volta A Térra who was an art school student then. João, who we called Milo, became a very close friend, changed my life and the way I look at life.
Through Milo I met amazing people including philosopher and text writer Francisco Oliveira. Francisco introduced me to young artists forming a group called Bandasdesenhadas who represent a form of art that combines text and images for the purpose of narrating stories of various genres and styles. Without knowing how, I ended up the middle of the art scene of upcoming artists like Miquel Jr. Rocha, João Fazenda, Susana Marques and many more of their friends including actors, singers, dancers.
I loved it!
The atmosphere was fantastic. I was intrigued with how my talented friends managed to portray their emotions, fears, anxiety, hatred and love. Their views, their voices were unstoppable. They expressed ideas in a creative way via paintings, comics books, dance or through the lenses of a camera.
I envied them.
I wanted to be an artist as well. But I didn't have the gifts they have... I don't know how to paint, draw, sing, dance or act.
Yet the love for art and love of being surrounded by artists stayed with me forever.
Knowing that I couldn't make it with an 'artist' life, I chose a career path in a tech business working for blue chip companies like Microsoft. I discovered that my unique gift and talent was working with these clients and delivering great services, so, I created a B2B marketing agency, Wings4U.
Years later, after developing the company and its culture a sudden stroke of happiness came to me while reading Seth Godin's book Linchpin: Are you Indispensable?
He writes,
"Art isn't only a painting. Art is anything that's creative, passionate, and personal. And great art resonates with the viewer, not only with the creator.
What makes someone an artist? I don't think it has anything to do with a paintbrush. There are painters who follow the numbers, or paint billboards, or work in a small village in China, painting reproductions. These folks, while swell people, aren't artists. On the other hand, Charlie Chaplin was an artist, beyond a doubt. So is Jonathan Ive, who designed the iPod. You can be an artist who works with oil paints or marble, sure. But there are artists who work with numbers, business models, and customer conversations. Art is about intent and communication, not substances.
An artists is someone who uses bravery, insight, creativity, and boldness to challenge the status quo. And an artist takes it personally."
Oh my!
How happy I was to discover that I CAN call myself an artist! And not only myself, but my colleagues as well. Suddenly I looked around and I didn't see Marketing Project Managers, Account Managers, Developers or Writers – I saw Artists.
People putting their heart into what they were doing whether it was creating an excel table or creating a presentation in PowerPoint. They used their creativity, took it personally with the intention to create raving fans all while challenging the status quo and coming up with revolutionary ideas.
No matter what work you may be engaged in, if you feel you're making a difference and you take your work personally, then that makes you an artist as far as I'm concerned!