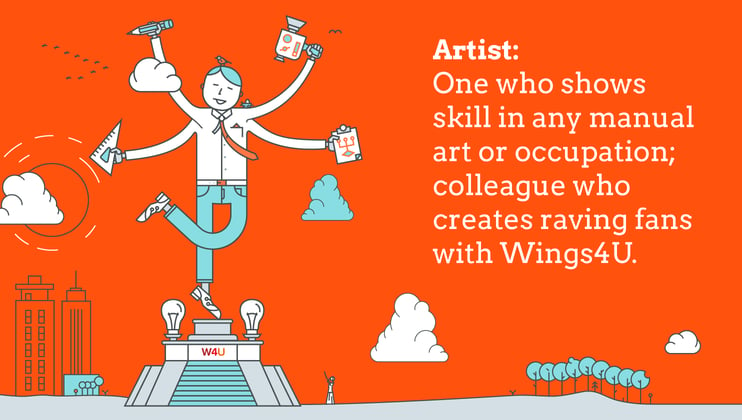 Being a freelancer isn't always easy. Freelancers can easily be taken advantage of by those who hire them and are often seen as lower-class employees, workers that might not get the respect they deserve.


We see things differently
We see our freelancers as artists. After all, the Collins dictionary defines an artist as someone who skilled in some task or occupation. We agree!
At Wings4U, our artists are respected as our partners and friends. You see, our global force of creative minds is what makes us who we are. Without them we would just be a name, a hollow shell.
From graphic designers (the ones who actually can draw!) and writers to app developers and data analysts, our team is knowledgeable in a wide array of different areas. They come from all over the planet and bring with them loads of experience and expertise. We should know, we choose who we work with extremely carefully.
We recognize the great skills our artists bring to the table. We don't judge people on their employment status or whether or not they are university grads. We don't take into account social status or anything else superficial. Our main concern is that our artists are the best at what they do.
Our secret sauce
Our artists are competent people burning with passion. Our virtual culture fosters a sense of team and camaraderie, amongst our growing team of artists. Although we are spread across the world and often times work alone, we never feel that way. We know we are part of something important, even if we are separated by a great distance.
And THAT is the secret sauce to our raving fans. Wings4U artists have fun with their projects because they are doing what they truly love, with a great team behind them. A combination of great results mixed with exceeded expectations leaves turns our clients into raving fans that keep coming back for more.
At Wings4U, we have an insatiable desire to help brands expand their reach by connecting them with the right creative minds, and to be an effective inbound marketing agency. It is this desire that drives us to work with only the best of the best.
We're not sure if Albert Einstein could draw, but he once said, "I am enough of an artist to draw freely upon my imagination." And as a worldwide force of artists delivering what B2B clients need - we're all for that!