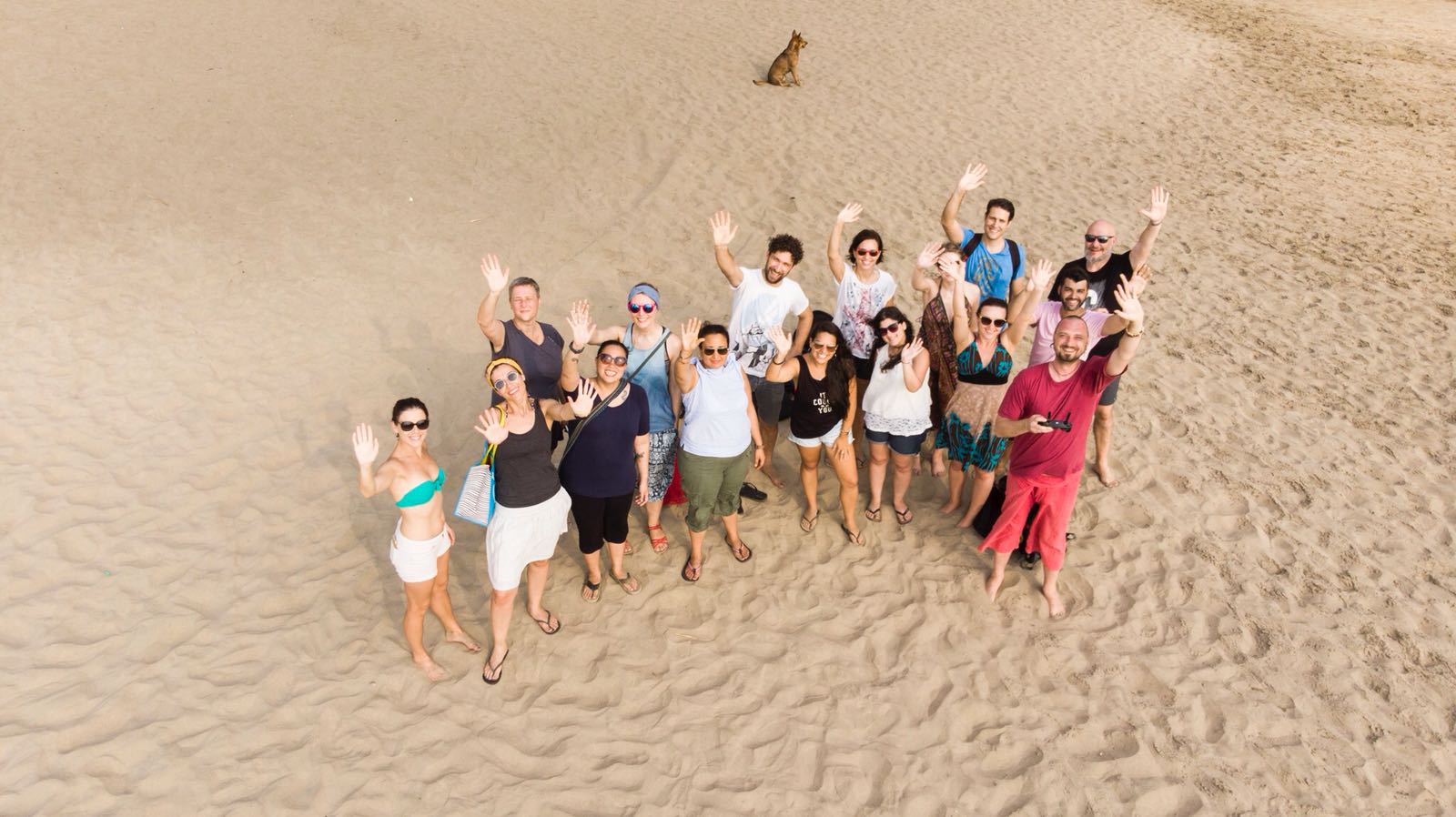 I've been working for Wings4U for the last year and a half so having the chance to meet a few people from the team several times before was always an exciting occurrence. Usually, the reason behind the meeting was a specific project or a client. This time it was supposed to be different. When the announcement "We're going for an offsite meeting in Goa, India" came, we got excited not only about location, but for meeting everyone from the team and having a chance to work together like never before!
Can you actually run a remote company without meeting live? Yes, of course you can. But, if you're going to meet, why not do it so that you can work together for a few days in a sunny location? Since we're not tied to a desk or an office, we can get on a planes and meet in a location for a week or so; preferably one with a seaview, where we can have some interesting conversations, afternoon swimming sessions, and generally experience new things. And the best part? That what happens there, doesn't stay in there! At beginning of our stay in India, I made a joke to some team members that nothing will be the same afterwards. It turned out to be more true than we expected!
What do workcations change for remote teams?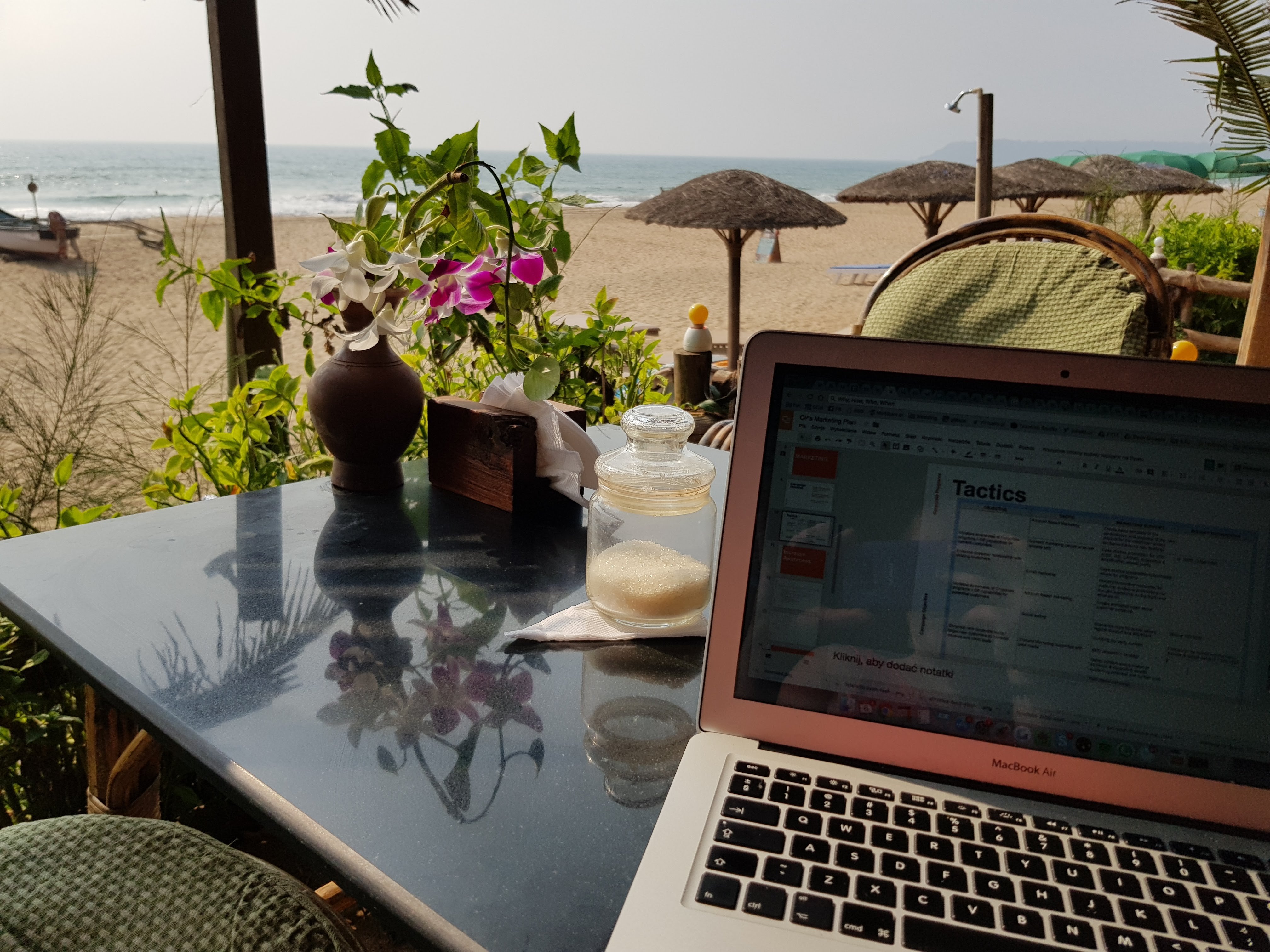 Truly getting to know each other
There are a number of benefits that come with remote work (we don't have to repeat it, right?). However, it also means that if we don't arrange a meeting, we would maybe never meet each other anywhere aside from Skype! In fact, most of the core team members 'meet' on a daily basis via Skype, GoToMeeting, or via other tools, often with camera. As about 90% of the conversations are usually focused on work and projects (you meet online to discuss specific problems), you have the remaining 10% dedicated to small talk, comments about your surroundings - yourself, weather, your cat roaming about in the background, or other stuff. 10% isn't much though.
You may feel that you're close to your team members but in fact, you don't really know each other. So when you get the chance to meet in person after working together for several months (or longer!), something magical happens. Having the group that you have been a part of for a long time in one place creates an indescribable floating energy. Sitting at a huge table in front of the sea where you share breakfasts, lunches, and dinners together where you just talk enhances those relationships (btw, following my fascination about italian culture, I believe that nothing connects people more than sharing dinner at the table! ;))). Suddenly, it turns out that you have plenty of stuff to talk about, despite the varying backgrounds and cultures that you come from - and the topics of those conversations are far from work-related.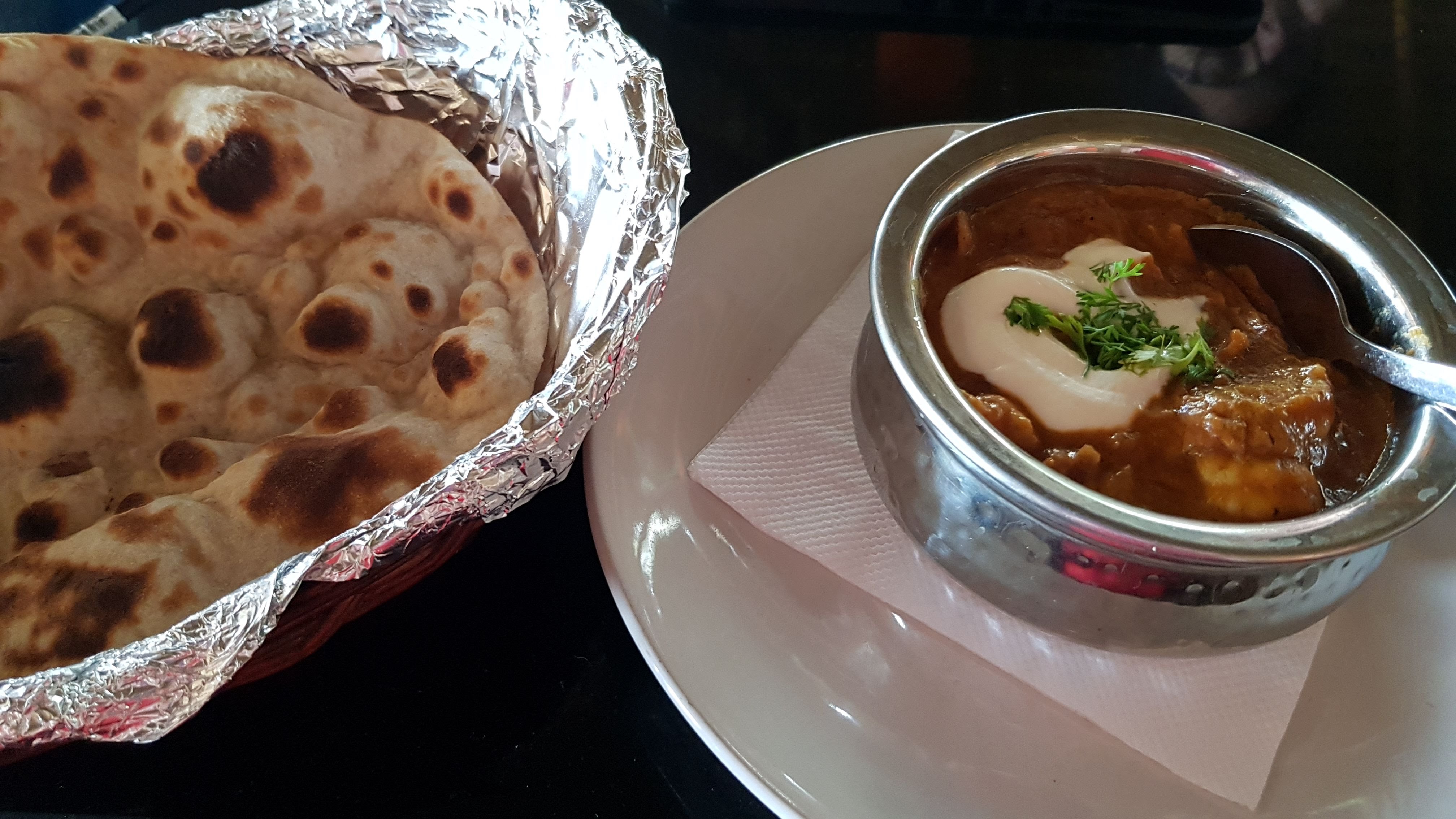 An opportunity to share each other's culture & background
Our workcation turned out to be a chance for opening up and sharing personal stories on how all team members actually got where we all are. It's also a great chance to find out more about everyone's culture, as our team is quite culturally varied and includes people from South America – Argentina, Colombia, through Europe – Spain, France, Czech, Serbia, Poland, Lithuania, to Asia – Philippines, and the UAE. I will always remember one evening in particular as a really powerful timefull of honest and surprising stories. Throughout the night, we played a little game that allowed us to get to know each other even better. Before the trip, we created a 'Secret Santa' of sorts and had everyone pair up through an anonymous lottery. Each person was given a recipient to whom they would secretly/anonymously buy a small gift related to theirs culture, as well as include a paper with written '5 facts about me'. The recipient of a gift would read it out loud and unwrap the gift, trying to guess his secret santa based on the clues given. It was fun!
Brainstorming ideas
There's a theory that work doesn't happen at work. To get something figured out, to have a really good idea, sometimes you need to get out from your workspace, go for a walk, change environments, and think about other things. This has happened to me an immeasurable amount of times when it comes to getting an idea or a solution to a problem at work; often at the most unexpected moment and place. The same can happen during workcation. Sure, you can brainstorm ideas via Skype and it does happen on a daily basis when we work remotely. However, brainstorming ideas together in an inspiring and unusual environment boosts creativity.
Imagine talking about some ideas while enjoying warm water in the ocean with your team members or while sipping a cold drink in front of the sea. Imagine replying to your emails next to a freshly prepared Indian meal. It can actually happen that you may end up working more than normal hours while being in workcation because you are surrounded by people who contribute to your projects and are ready to give you the insights and ideas that will make the time more productive; even if it's happening by a beach or with a tropical drink in your hand. And after work, there's no rush to get back home and cook dinner; you can instead spend some time bonding together over discussions of things that normally you wouldn't talk with co-workers, especially remote ones via Skype.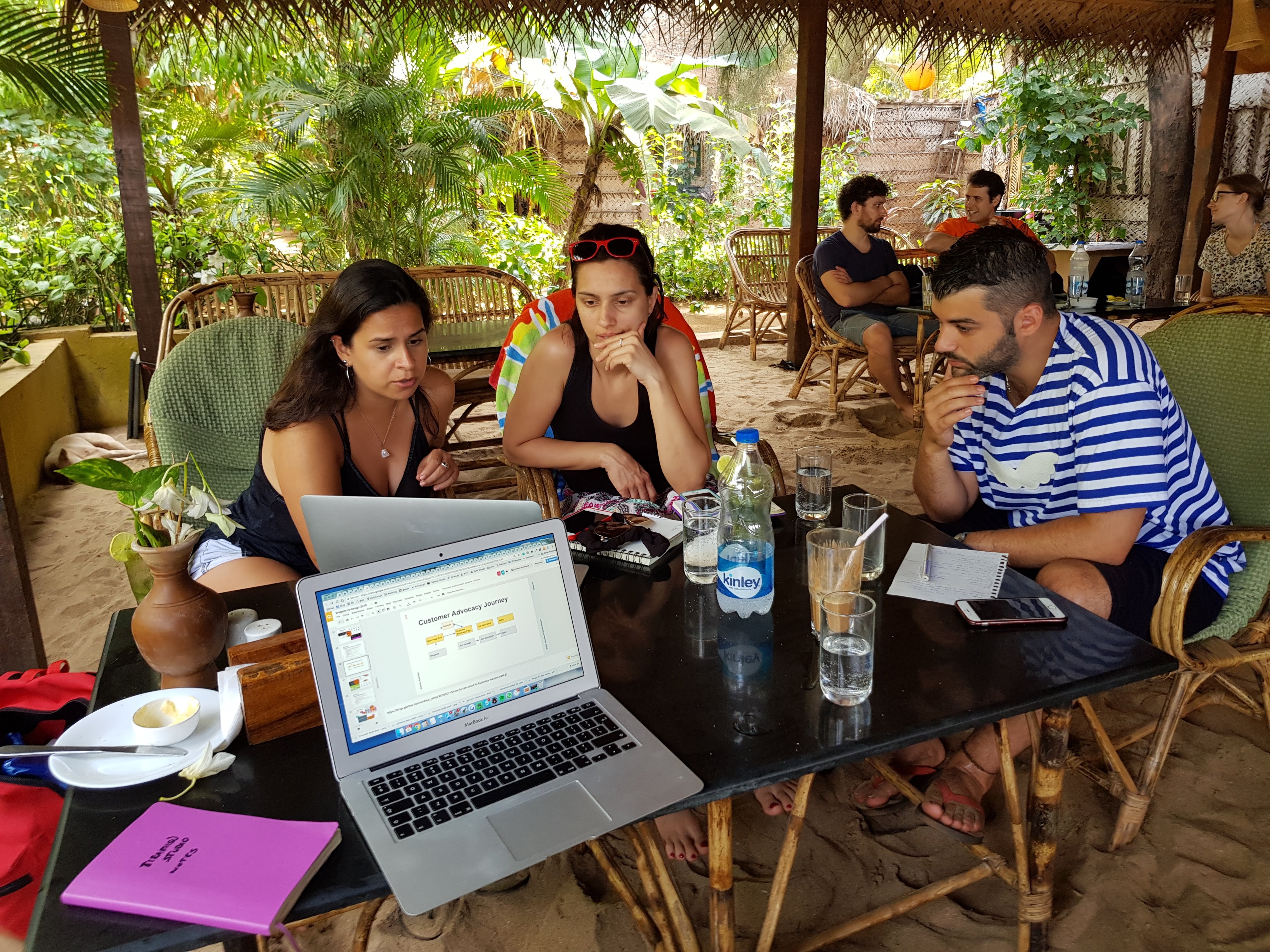 Experiencing new things together
Whether it's experiencing new food, jumping in the ocean, going for yoga or an Indian massage, or the first ride in a tuk tuk - all those activities strengthen bonds between team members. Going to a place unknown may even be a better idea than organizing it in common location because it makes everyone get out of their comfort zone and puts them into a new situation - enabling them to learn something new about themselves.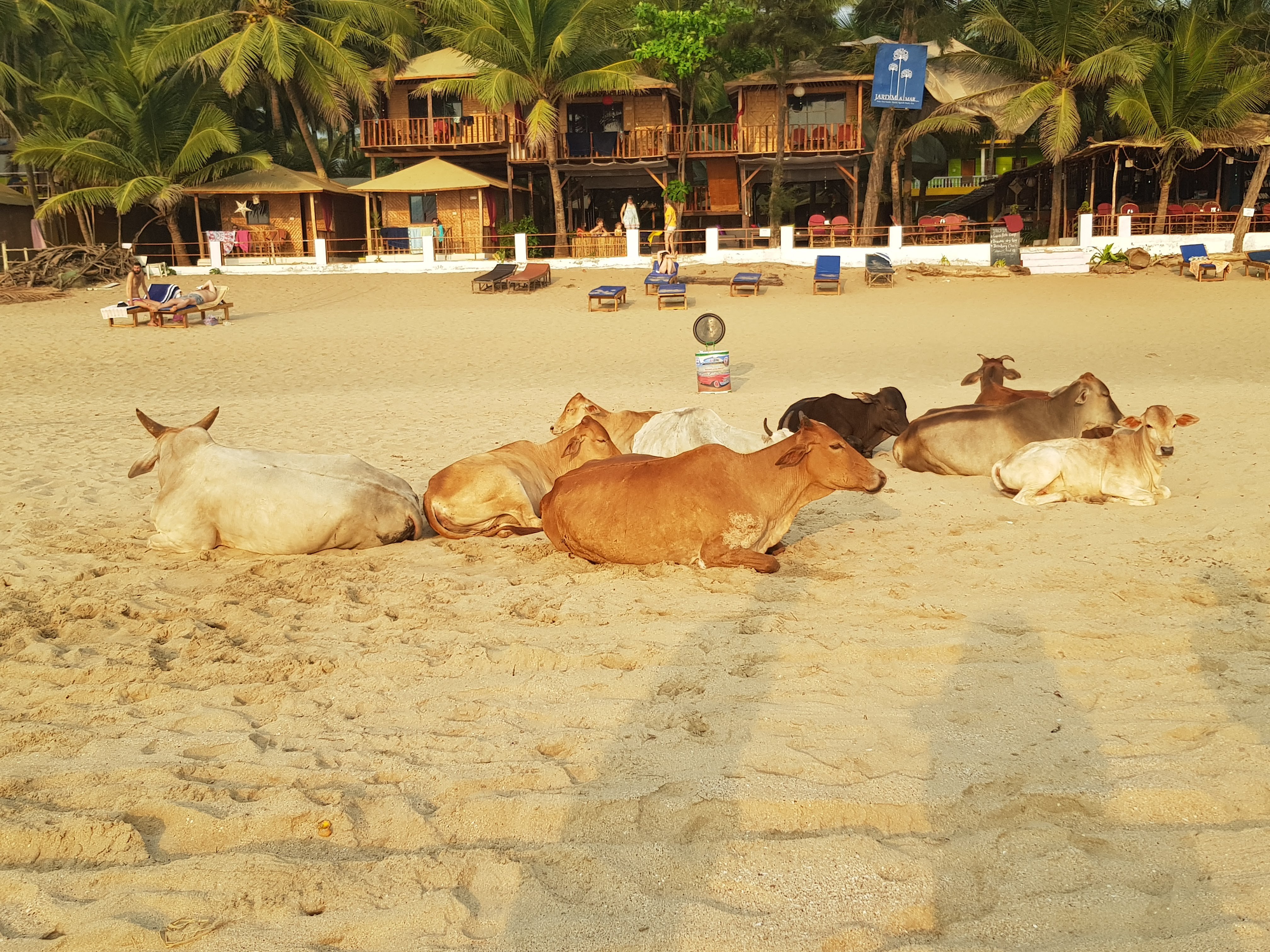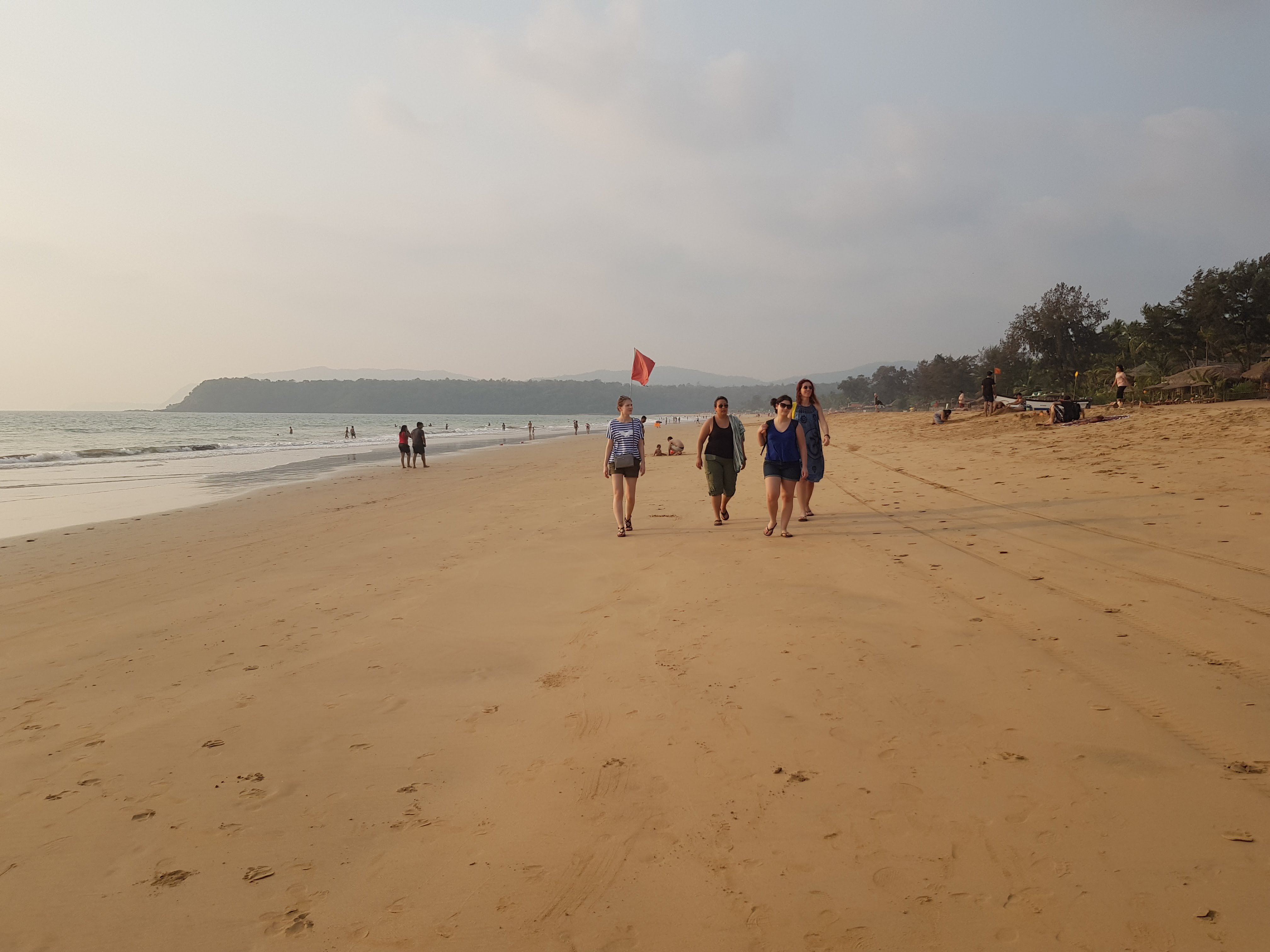 Filling the gaps across teams & discovering super powers
Even though our team is not huge, there is no chance that everyone could be involved in every project on a daily basis. That's why having workcation is a great chance to share knowledge across teams, to present what teams have been working on recently, and to showcase their outcomes. It increases awareness throughout the team of everyone's contribution and how everyone's work impacts other teams. It's also a great chance to identify gaps that can be filled, as well as to discover more about everyone's skills. Being aware of everyone's 'super powers' can really enrich projects and teams.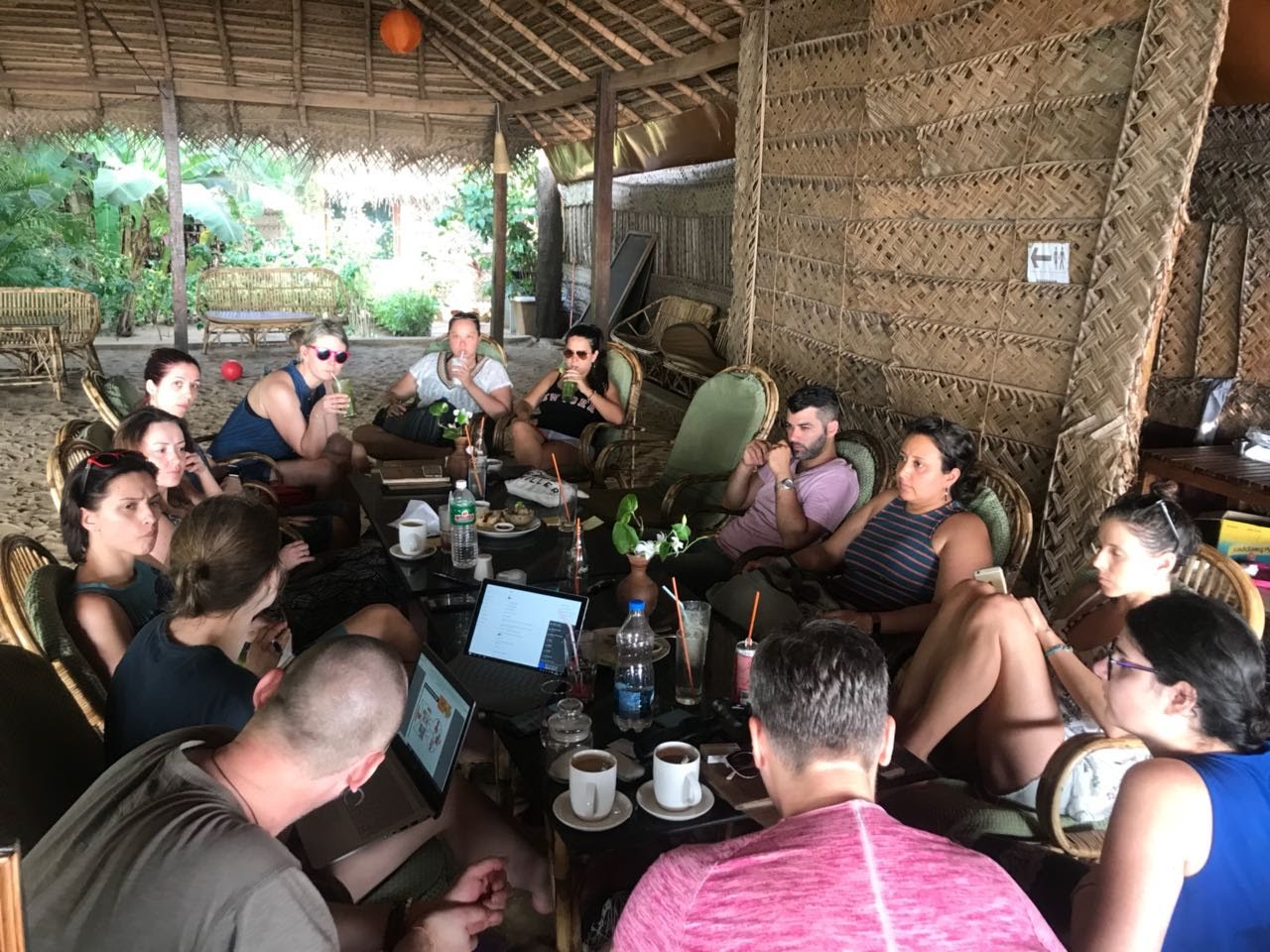 Discussing present and future strategy
One of the biggest benefits of the conversations had while on workcation is the chance to discuss topics related to the company's future, as well as the current situation, vision, goals, and learnings from projects. These are topics that give you additional 'power' that you can take home with you to help speed up planning and implementing tasks within your role.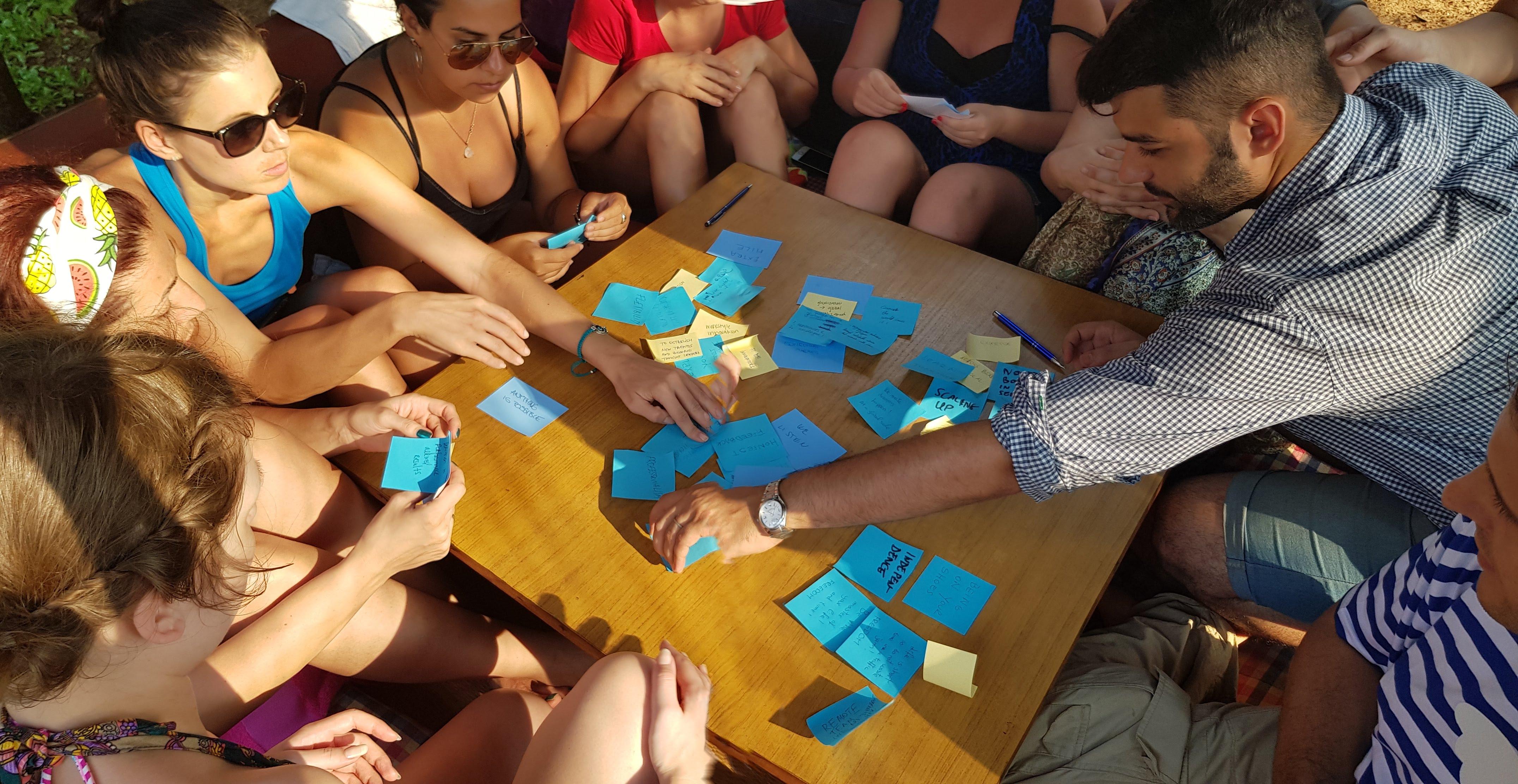 Getting things done together
While we wouldn't exchange remote work for office work, the fact is that sometimes some things are easier to get done when you can sit together and discuss them live. That's why during this workcation we were able to discuss, fix, and plan the implementation of some issues that may have seemed difficult, but turned out to be easier than we thought. We could just talk, exchange ideas, discuss solutions, and the most important part, do so without any time restrictions. Workcation is a chance to get a lot of things done together.

Summary
Once you return home, nothing can go back to how it was before. You know way more about your teammates, about their personalities, how they approach problems, how they talk, what they are passionate about, what makes them laugh. It changes way you work with someone. You don't approach everyone the same way anymore, you incorporate knowledge you collected about that person into your daily conversations and in the way you communicate. It's priceless and gives us a motivational kick for the next months!
What are your thoughts about it? Did you have chance to travel somewhere far and work remotely at the same time? Leave a comment below!