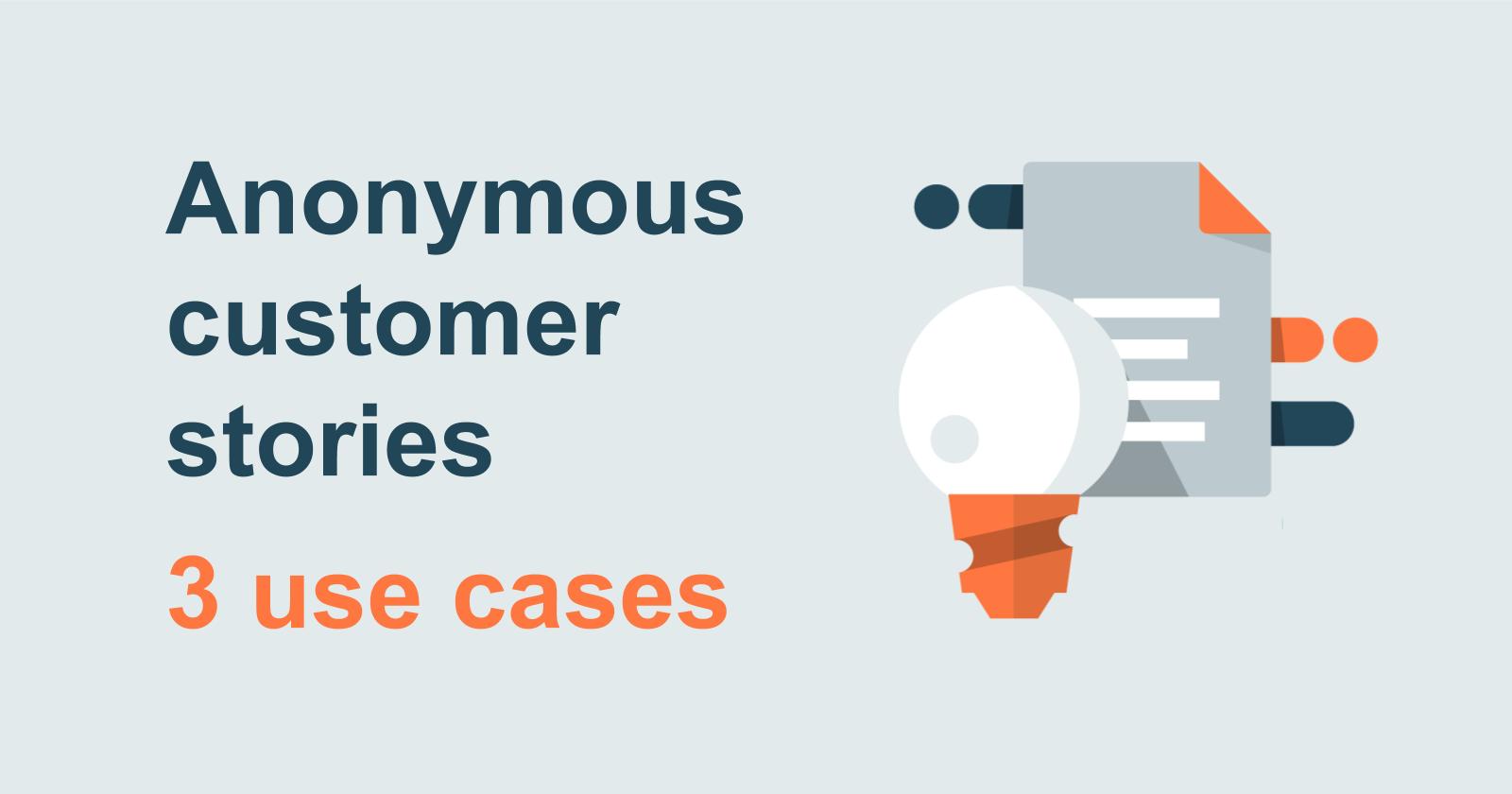 If the main goal of customer evidence is to bring authenticity and credibility to a brand and its benefits, what do you do when customers refuse to put their name to a testimonial? Maybe their industry is set up in a way that disclosing their technology stack, setup or partnerships would expose them to risk. Or maybe it's internal policy. Either way, creating customer evidence can become a difficult task when customers ask to remain anonymous. Well, worry not - we have a number of suggestions to help you find a solution that will benefit all parties.
Whitelist customer stories
The critics state that customer evidence doesn't work anonymously. But I'd like to play devil's advocate for a moment and make the following claim: a customer story that's well written, contains emotion, conveys the power of collaboration and the true overcoming of challenges and achievement of goals can be a great story in itself - even without a name. Just as with blog posts, reading well-written customer story can help your prospects realize that they face the same challenges as the company described, and at the same time, to understand the potential of your solution.
As long as the story describes the real-world experience of your company and your customer, its authenticity will shine through, even behind the veil of anonymity.
That's why it's important to keep two factors in mind, even when writing an anonymous customer story:
Interview your customer, even if they won't end up attaching their name to their story. Explain to them that you'd like to build this story based on their actual experience to ensure it's authentic; at the same time, guarantee that you'll protect their privacy and policies.
Before finalizing the story, undertake a final review with your customer. They may have a change of heart once they see the final result and then agree to attribution. If not, you'll still have ensured that you've described your collaboration accurately, and they'll have the chance to give the final blessing.
Even if you publish an anonymous customer story, you've told one that's true. And if nothing else, this will provide you with an opportunity to build a stronger relationship with your customer, demonstrating that you both respect their wishes and are interested in hearing their side of the story.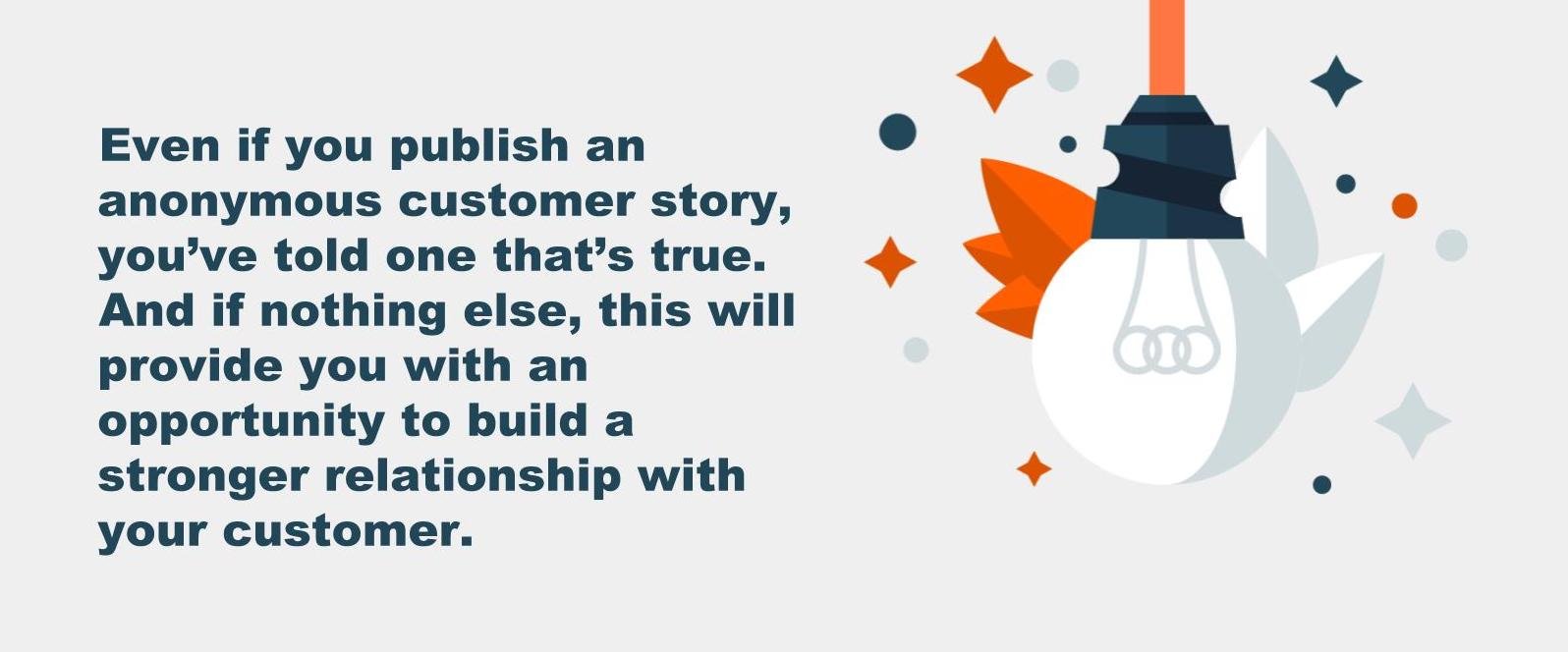 Customer reference calls
Bear this in mind: it's often not a case of all-or-nothing. In many cases where companies do not want to disclose their name publicly, they remain happy to talk one-on-one about their positive experience.
That's why customer reference calls can be a great alternative or supplement to your case studies and testimonials. If you're interested in creating an anonymous story with a happy customer, the best advice we can give is asking they wouldn't mind a one-on-one call with a new prospect.
Arranging a get-together between your customer and prospect is often a natural next step. This can be highly beneficial in the long term, as an organic conversation between a person who's already worked with you, and a person who's still considering taking the leap, can help uncover things that a customer story never could.
Before you pursue this tactic, keep in mind:
You must check with the customer beforehand if they'd be open to talking to your prospects. Don't simply spring the idea on them. Help them prepare, explain what your prospects normally ask you, and what they might ask them. Explain that they don't have to sell anything or advertise you - it's just a call between two professionals.
Ask what kind of prospects they'd be interested to talk to. Maybe your happy customer is only comfortable talking to people from their own industry, or maybe they specifically want to talk to someone from a different industry so they can expand their own knowledge. Make sure that the reference call is mutually beneficial.
Customer reference calls are great for building trust in your brand as well as your existing happy customers. They also help create a strong support network for new prospects that many other companies can't offer.
Customer evidence as a demo
Let's assume that your happy customer doesn't want to publicly showcase their collaboration with you due to certain confidentiality reasons. Maybe it's competitiveness, partnerships, or publicity policy. Instead of calling it quits, you could pursue a more complex, but still rewarding path. Build a use case or demonstration of the solution you've implemented for the "Manufacturing leader in the APAC region". Maybe add in a demo video or some interesting snippets that come from the real experience of your customer.
If you'd like to add an extra bonus to an already interesting piece of content, you could include an offer for new prospects to see a live demonstration. This is where the above point about reference calls comes into play again. If your customer agrees to a one-on-one sit down with a prospect, it can do wonders for the decision-making process.
If you aim to pursue this path, please keep in mind:
Use case or demonstration write-ups cannot be generic. Include details that are highly specific to the industry or the particular results you've helped your customer achieve. Sellers and product teams often position challenges and solutions in a slightly different way to that which customers do, missing the precise point. So, talk to your customer, and co-create the use case with them. It might even help them - they can use the materials for their own training purposes or to present about achieved results!
If you're going to prepare a demo video, stay mindful of the fact that quality and relevance count. Import data that will mimic what the actual customer or prospect would experience. Don't just settle for three data points. Make it realistic and a valuable use of their time.
Depending on your target audience, a use case or demo may deliver similar value to a solution- or ROI-focused customer story.
In the current day and age, prospects have come to expect an abundance of information - not the need to search hard for the facts they need. That's why, today, customer evidence is one of the best strategies your marketing and sales team can employ.
Of course, we understand that one model of customer evidence creation doesn't fit all. Above are merely a couple of examples of how to solve for the more careful customers and still build trust. Perhaps you are in a more unique situation when it comes to customer evidence or would like to discuss the above use cases further? Get in touch with us and we can chat more over virtual coffee.