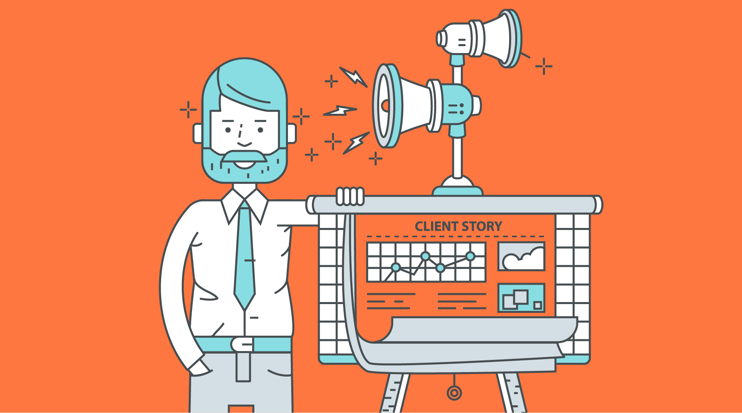 Customer stories are all about getting to know your target audience well, figuring out their pain points and sharing how you've solved these problems before. This acts as a selling point to potential customers. We found the best way was to treat them as a body, from head to toe. Here's how to build one in four easy steps:
Head
Together, focus and strategy are the head of your customer story. It's where you plan your strategy and select the pain point your target audience relates with. Think about the buyer persona you want to address, stage of customer journey they are in and the channels and formats of content most relevant to their behaviour and habits. After this, decide on a pain point you think your prospects are struggling with and make sure you have related experience and results to show. Keep in mind that identifying the problem correctly makes a better selling point for your audience.
Download our ebook to learn how to create the anatomy of a great customer evidence story!
Eyes
The next step is all about seeing clearly. Identifying the reference customer whose life has improved through working with you is as important. Their words are going to show how successful you were in helping them get results. Make sure the customer you select is passionate about what you do, have had a similar struggle, and are well known to your target audience.
Body
Now that you have a strong idea and vision, you need a healthy body consisting of your plan and information. Select and contact someone from your client company that fits your buyer persona. If your buyer persona is a marketing executive, you might interview someone with a similar perspective. Continue by forming a storyline and decide on the main messages you want to get across. This helps in figuring out what to ask your client during the interview. Learn which methods of communication they prefer and prepare your questions in advance. Whether it's a face-to-face interview or a video call, it's best to send them beforehand so your client has time to prepare.
Limbs
With a perfect head, eyes, and body in place, you need the arms, legs, hands to use and distribute this valuable content. Sharing and promoting your work is just as important as telling a great story. Using the buyer persona and stage of customer journey from the head section, you will be able to identify the content channels and formats you should focus on in promoting your story. A person in the awareness stage won't be interested in downloading a twenty-page ebook, but might be attracted by a striking quote or statistic in social media.