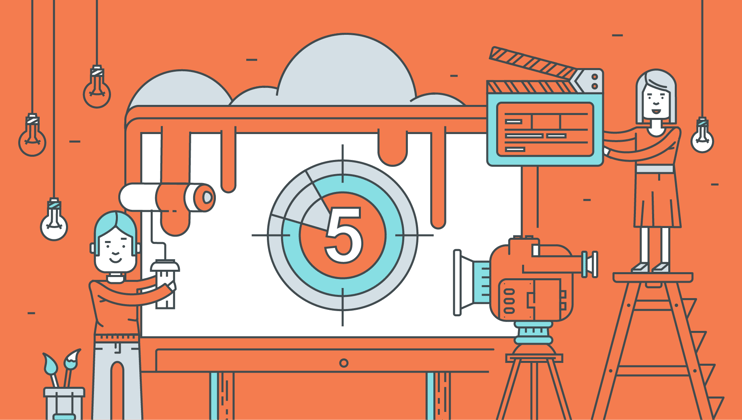 Content marketing strategies have evolved rapidly over the past years, and there is no question that we have stepped into the era of video as of 2016. Video is the most recent superstar among digital marketers and is expected to dominate this field in the near future according to industry experts and studies. While Syndacast expects 74% of all Internet traffic in 2017 to be from video, Cisco adds to this with a forecast that it will increase to 80% by 2019.
Video achieves better engagement
Youtube is among the highly used content distribution platforms with 59% and The 2015 State of Digital Marketing report shows that 76% of B2B marketers create videos for their target audiences. Video content is rapidly being adopted by brands because of its high effectiveness (68% for B2B), and for its ability to engage with audiences better, as they are based on a story. According to Michael Litt, Founder of Vidyard says, "Video is the next best thing to being in person," and this is because it provides us with the feeling of being there and experiencing something first hand, which is more memorable and long-lasting.
Millennials are all about 'show, don't tell'
On top of these, people are consuming online video more than ever and 80% of millennials use video to help them decide which products to purchase. 60% of them prefer watching a company video over reading a newsletter and every 1 in 2 of them read an email if it has a video attached. These figures say a lot about how brands should change their communication strategies. Did you know that "millennials" are expected to collectively spend more than $200 billion annually beginning in 2017, which will come out to $10 trillion over the course of their lifetimes? This is a number that gets us excited for the future! It's crazy that a video can get nearly 110 million views in less than a month with most of the viewers falling into this age group!
If you haven't included video in your marketing strategy yet, we suggest getting inspired from these figures and taking action to plan your first video campaign now! If you need more inspiration on how to design your video, take a look at these successful B2B video campaigns and find a complete guide to help you out with all the details of your campaign here.