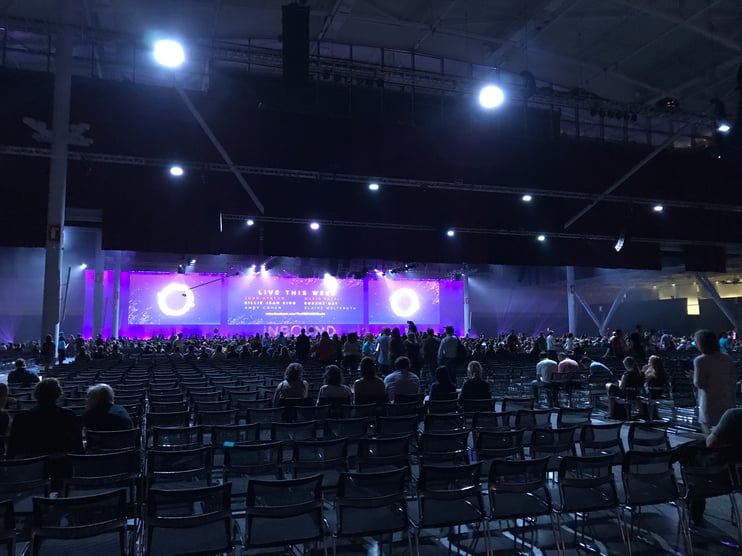 It's a common mistake to think of your company's departments as separate units. Content marketing is what ties it all together like superglue. This text is inspired by the thought-provoking "How to Use Content Marketing for Each Department of Your Business" talk by Kelsey Meyer, the co-founder and president of Influence & Co. at INBOUND2017.




This text is inspired by the thought-provoking "How to Use Content Marketing for Each Department of Your Business" talk given by Kelsey Meyer, the co-founder and president of Influence & Co. at INBOUND 2017.
MARKETING
Let's start with the obvious: content marketing magic happens within the marketing department. But what some marketers fail to grasp is that it isn't enough to only focus on trending topics and keywords without really listening to your audience. And to have the ability to do so, marketing should be aligned with other departments. It's not a one-way street either; by communicating with others, marketers can learn about their audience and identify gaps in their content strategy while supporting the efforts of other departments by providing effective content that they can use to do their jobs better.
Tip:

No department is an island. They may do seemingly unrelated things, but a holistic marketing strategy requires that everything is connected. Consider organizing bi-weekly or monthly meetings to share progress and insights from each department, so everyone can learn what the others are doing, put things into perspective, and use those learnings to do a better job.
SALES
Did you know that 70% of the buying process is done before even talking to a salesperson? The smarketing concept is still underdeveloped in many businesses, creating a gap between the marketing and sales teams that leads fall into faster than Gandalf falls off that cliff in Moria. There are often situations in which the sales team isn't supplied with sufficient materials about the products or services that your company offers, and they can't give a satisfactory answer to a prospect. In each step of nurturing the prospect down the funnel, there should be appropriate content assets to help with the process. Use press mentions and blog posts in emails you send to prospects, or try to engage a prospect in a conversation by sending them an article to discuss.
Tip:

We all love to feel special and to be treated as such, which is why all those gold memberships and similar constructs work so well. Create exclusive content marketing assets for existing customers or give them the exclusive right to be the first to get access to your new eBooks, webinars, and other content goodness. They'll appreciate being treated in a special way.
HR
The more attractive your company is in the eyes of job candidates, the more applications you'll receive, which can be a double-edged sword. To save your HR team from going through a pile of applications and to save time to candidates who are obviously not a good fit, you should dedicate part of your content to communicating the company culture. We at Wings4U nurture the remote work concept, which isn't suitable for everyone, and so by making it clear what kind of company we are from the start we are targeting only candidates that would do well under such working conditions. Our goal is to provide good onboarding materials for every new hire to help smooth the integration process and make everyone feel a little less lost.

Tip

: Promote content that gives the audience insights into the way the company works; there's an interesting story to be told about anything from the assembly line to your annual team building trip to Madagascar. Even if your industry requires a formal approach, it helps to show that we're all human and that there are daydreams, ideas, and challenges behind every successful company.
ACCOUNT MANAGEMENT
Content marketing can be an invaluable tool for account managers. Well-crafted content, such as presentations or slideshows, creates a firm basis for communicating what your company has to offer to the client. Any pitch needs to be backed up with strong messaging, and visuals are the content format people respond to best. Carefully selected content such as case studies or customer success stories may be the tipping point for an indecisive client to agree to your proposal, especially if you choose examples that resonate with the client regarding company size or the complexity of the project.
Tip:

Establish your account managers as thought leaders; this will have a powerful impact on the decision-making process of your clients.
CUSTOMER SERVICE
Whether you're aware of it or not, the customer service department is one of the most important sources of information for content marketing. How many times did all hell break loose when a bad online review went viral and did a critical hit on a company's reputation? Customer service feedback is golden - you get to hear straight from your customers about everything that is good and not-so-good about your offerings and the delivery of those offerings. Every question or doubt your customers may have is worth making into a blog post that explains whatever it unclear. Every complaint is an incentive and opportunity to improve your process, and later turn it into a story of how your company faced and overcame a challenge. Once again, we're all human and we all make mistakes, and people appreciate when companies step forward and admit they're human, too.
Tip

: Keep an ear out for what your customers are saying. Always be in touch with your customer service and have them send a list of FAQs or other customer feedback, so you can create precisely the kind of content that would be helpful.
CONCLUSION
Don't underestimate the power of content marketing, especially in the spheres you could never have imagined it could work in. A holistic approach to your business can help make it more thriving, so don't hesitate to share one department's learnings with other branches, even if they seem unrelated. We're preparing a little surprise for you on this topic, but in the meantime, feel free to check out 5 mistakes made by businesses in their content marketing efforts.