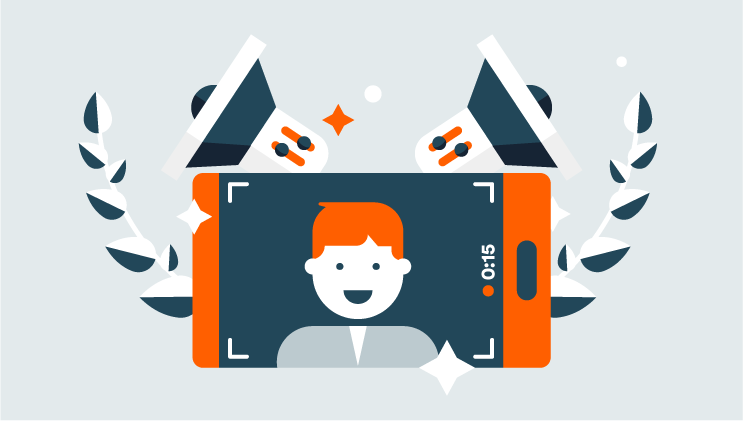 Twitter is focusing on acquiring new users and disrupting how people use the platform. LinkedIn and Instagram are becoming the two main channels for B2B and B2C marketing. And, we've seen a major shift towards video content on social channels and owned media. Instead of just chasing this trend, we stopped and asked - what's driving it?
You can now listen to this post:
Simple joy of moving pictures
While video was always an effective marketing strategy, it never had as much importance in marketing for two simple reasons - cost and complexity. Video was expensive from the start, from planning logistics, all the way to post-production costs. This has changed in the past decade. With smartphones, consumer cameras and microphones, almost everyone can create quality video content. At the end of the day, it's content that brings us back. But that's not the full story. This process becoming less complex and expensive has meant 52% of marketers now say video has the best ROI.
Where moving pictures meet their audience
With recent changes in user behavior, moving from desktops to phones, to interactive experiences and voice-based search, daily online interactions are turning into conversation. Your phone talks to you, so why shouldn't the brand you engage with?
"Status updates" don't cut it anymore, because there's no story to engage. LinkedIn and Instagram lead here. LinkedIn started as a platform to tell your professional story - your rags to riches or garage to Silicon Valley story. Instagram was always about stories - the simple and beautiful moments of your daily life. With the addition of Instagram stories, it even got it in its title.
Stories start conversations and how you continue them matters. Video comes out on top here. You're empowered to tell a story in a personalized way, put a face to it, a voice that resonates, and deliver your message with amazing visuals or fantastic soundtrack. All wrapped up in the perfect call to action.
Glitz and glamour of influencers matured
Next on our list is, of course, influencer marketing. Or, as it's becoming more know as: thought leadership. Social selling has proven to be more than an effective strategy to engage prospects and delight customers. Although it may be tempting to think millennials are barely graduating school and you've seen Finding Nemo in cinemas just last fall, it's been over 15 years. 46% of B2B decision makers are aged between 18 and 34, while 91% of B2B buyers use social media. Add to the fact that 81% of B2B purchase decisions are heavily influenced by non-C-level executives, and you've got to ask yourself, are you really engaging the right prospects, in the right way?
US data available from YouTube shows B2B researchers watch about 30 hours worth of B2B videos. These videos are not just awareness content either - people reportedly watch feature videos, reviews, and tutorial videos, and then engage in conversations with colleagues or research the topic further with more precise terms.
We know that social videos are an effective way to get a prospect's attention, and that customer story videos are helpful in building authority, but there's so much more to video content. Regular brand videos with useful insights can help prospects find the right words to ask the right questions, as well as provide the right information to convince their colleagues.
Welcome to ABM park
Along with social selling, account-based marketing (ABM) is stepping into the spotlight. With CRM and COS platforms storing prospect and customer touch points, and business intelligence platforms offering detailed insights into customer behavior, account-based marketing never had so much to work with.
Brands are spending more time trying to understand key accounts and adjust their marketing message to offer the exact solution they need. This is much easier with the ability to target ads by role or company on platforms like LinkedIn. You can rest assured that your message is put in front of the right eyes, and if it's not getting results, change your message accordingly.
The cherry on top is the level of personalized engagement brands can offer through personalized email campaigns and InMail blasts, or on the other side of the coin, personalized customer support or self-service platforms.
With all this insight available on key accounts, we also noticed the trend to create vlogs or education materials targeted towards key accounts. This is only natural - account-based marketing helps increase close rate, deal size and the velocity of deals closed. Some of the best examples of ABM video content comes in the form of guided solution tours, educative videos, vlogs of solution experts or thought leaders.
But… I can't video… or can I?
At this point, we're not going to ask you if you're ready for video - of course you are. Who wouldn't be? What you're actually asking yourself is how much of a pain it'll be to do this, with all the different locations you need to cover, the tedious logistics of filming, the equipment, post-production... And you're not even going to begin thinking about the kind of video you should be producing, right?
Well, worry not, Wings4U has been giving video wings to brands worldwide. With our global network of artists and a growing network of local partners, we take care of all the hassle of video production. We also ensure you have feet on the ground wherever you want to film your next conversation piece. If you're still asking yourself what type of video you should produce, look out for our next installment in this series about the "when and which" of video. We're here with the cure to overthinking video. If you'd like to have more personalized advice on the right type of video for - reach out to us and we'll talk more over virtual coffee.