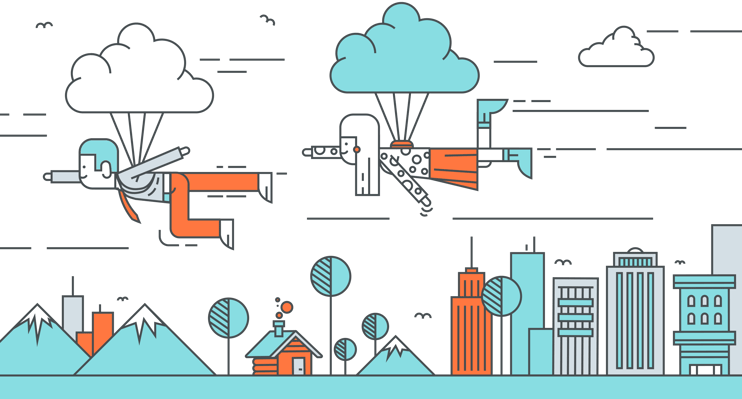 It doesn't take fancy contraptions or overwrought plans to fly. Take it from us.
At Wings4U, we find our flight power in the simple things: a genuine passion for growth, common sense, the freedom of a virtual workplace, and a solid base of raving fans. As a B2B marketing agency, we are fueled and grounded by these four core values.
Virtual Culture
Spanning seas and continents, we are a marketing and communications agency where freelancers are Wings4U artists and the office is wherever the artists are.
Why is this important? We believe there is great talent absolutely everywhere. With a graphic designer from another continent, a writer from a small town, an app developer from a bustling city and a data analyst from a whole other time zone, you can be sure our solutions are loaded with cross-cultural insights and ideas. Simply put, we believe that our global culture makes us better. Why be limited to the talent in a geographical location when the brilliance of minds across the world is available?
Working virtually and across borders keeps us on our toes and challenges us to find better ways to communicate and collaborate. This same creativity drives us to help our clients reach their customers in the most effective way possible too.
The freedom of a virtual workspace guarantees that the people we work with are leading the lives they dream of.
Passion For Growth
We seek growth opportunities for our artists as well as our clients.
This drive to grow as individuals, as colleagues and as marketers means constant evaluation and jumping into learning opportunities whenever they present themselves.
Admittedly, it pushes us beyond our comfort zone sometimes; sometimes we have to throw our fears out the window. But how else will you be the best in your niche? To be sustainable in this constantly changing world, you have to keep learning and growing. Each bold decision we make is a growth spurt for our clients and for us. It's passion for growth that keeps our wings expanding.
Common Sense
OK, so we've discovered that common sense isn't always so common. It's easy to get caught up in hype, trends or corporate politics and lose sight of the end goal.
In an evolving ecosystem of brands and markets where 'fast-paced' can describe almost every process, common sense keeps us on track. We find that the best strategies come from looking at situations with a clear eye and applying our native intelligence. It sounds simple because it is.
Common sense keeps us agile, forthright and fresh. With our clients, Wings4U goes from point A to point B in the most straightforward and sincere way possible. We cut the fat where we can, ensuring that our clients get are lean ideas that work.
Raving Fans
This is why we do what we do.
Impressing our clients and helping them reach their goals gives us cause to celebrate. And we love to celebrate! We are grateful for the chance to form innovative partnerships with our clients.
Like we said at the start, fancy inventions won't get you flying. Passion for growth, common sense, freedom, and community are the Wings4u core values that keep us alight. If you share similar values, drop us a line, we'd love to hear from you.