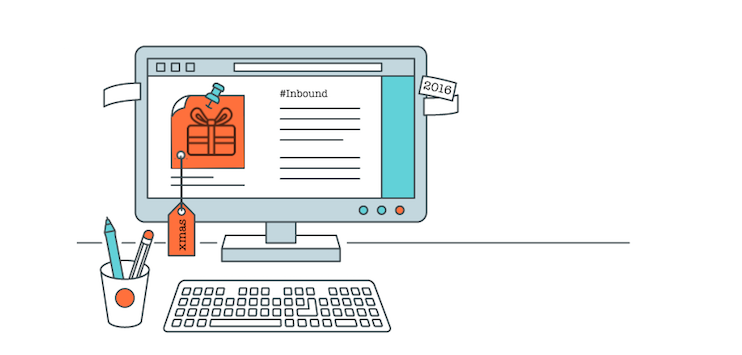 The end of the year is always a good time for various summaries. And that's what we did! We looked behind and chose most viewed posts about inbound marketing published on our blog in 2016. Here we go!
91% of B2B marketers use blogs to create demand and nurture leads. What about other channels? Let's dive in and look at four trending content ideas for B2B marketing that generate good ROI: videos, whitepapers, webinars, and ebooks. When to use them and what does statistics say about them? Let's have a look into 4 content ideas for B2B marketing!
In HubSpot's survey, 73% of companies listed inbound as a primary approach to marketing, but is inbound really the best choice for every company? Wings4U has developed the STASIS check check as a quick way to determine if inbound marketing is right for your business by considering six critical factors.
We went to #INBOUND16 - the Inbound 2016 conference in Boston and we brough some insight to share. All the big names appeared too - Serena Williams, Reshma Saujani, Alec Baldwin, Trevor Noah, Ali Wong, Anna Kendrick and more. We summed up some of our learnings, so you can take these tips and implement them in your SaaS businesses right away.
Content marketing strategies have evolved rapidly over the past years, and there is no question that we have stepped into the era of video as of 2016. Video is the most recent superstar among digital marketers and is expected to dominate this field in the near future according to industry experts and studies. Why? How to apply it to your business?
Once you have great content, Twitter is one of the three most important social channels for B2B. Every month, Twitter clocks 300 million monthly active users; it's important to be present and effective on Twitter. It's fun too. You can jump into conversations in real time, with influencers and potential customers alike. How to use it for your brand and what to remember while creating your brand communication on Twitter?
Whether your case study is in video form, or as an article, don't leave them to collect dust on a website somewhere. Hard work went into publication of the stories containing all the juicy data your clients were willing to share. Now it's time to amplify, to promote, to put up big arrows in the digital world that point back to your customer success stories. Here's 7 ways to do just that.
We shared with you our five favourite sites with high quality photos you can use for your business, website or blog, all at no cost (most of them you can just use with Creative Commons license). Enjoy!